Prosecutor in 1993 blasts case welcomes SC judgement on Yakub
Mumbai: Special Public Prosecutor in 1993 serial bomb blasts case Ujjwal Nikam today welcomed the Supreme Court's decision to dismiss a plea of prime accused Yakub Abdul Razak Memon seeking a review of the death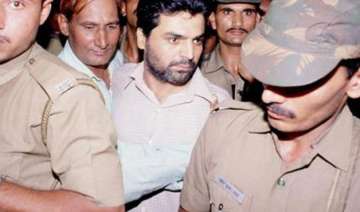 PTI
April 09, 2015 19:49 IST
Mumbai: Special Public Prosecutor in 1993 serial bomb blasts case Ujjwal Nikam today welcomed the Supreme Court's decision to dismiss a plea of prime accused Yakub Abdul Razak Memon seeking a review of the death sentence awarded to him, saying the judgement would send a strong message that conspirators would not be let off with lesser punishment.
Yakub, brother of absconding accused Ibrahim Mushtaq 'Tiger' Memon, was alleged to be one of the conspirators in the case. While Tiger and his kin were suspected to have escaped to Pakistan after the 1993 blasts, Yakub returned to India with a few family members and was later tried by a TADA court.
"The order of dismissal of Yakub's review petition is significant because Yakub had challenged the death penalty awarded to him on the ground that those who had planted bombs in cars and other places were awarded life sentence while conspirators were given death penalty," Nikam, who led the prosecution in this case, said while reacting to the SC order.
The SC judgement will send a strong signal in the society that those who hatch conspiracy to commit crime should be held more responsible than the ones who execute it. The role of conspirators is more serious than those who plant bombs. The executors of bomb blasts are "brainwashed, motivated and hired" by the conspirators, said Nikam.
Yakub was a chartered accountant and the most educated member of the Memon family. He was convicted in the 1993 serial blasts case in which 257 persons were killed.
The Supreme Court had on March 21 sentenced him to death for his role in the case. Aggrieved, he filed a review petition in the apex court which dismissed it today.