UP government evacuates 7,000 including 30 foreigners stranded in Nepal
Lucknow: Uttar Pradesh government has evacuated around 6670 Indian citizens and 30 foreigners who were stranded in Nepal after Saturday's earthquake. Evacuated people, most of whom belong to UP and Bihar reached UP on Wednesday.The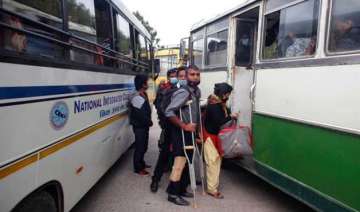 India TV News Desk
April 30, 2015 11:25 IST
Lucknow: Uttar Pradesh government has evacuated around 6670 Indian citizens and 30 foreigners who were stranded in Nepal after Saturday's earthquake. Evacuated people, most of whom belong to UP and Bihar reached UP on Wednesday.
The UP government had sent 205 buses to the earthquake affected areas in Nepal for safe evacuation of these people, who reached Gorakhpur via Sanauli border. Around 2500 others have entered the Indian territory by their own vehicles.
Some of these people belong to Maharashtra, Gujarat, Madhya Pradesh and Karnataka.
Railway Ministry has made arrangements to send them to their native places by trains free of cost.
Indian Express reported that special rail coupons are being issued at relief camps in Maharajganj and Gorakhpur for those who have been evacuated. They can get free railway tickets for their respective destinations after submitting the coupons at railway ticket counters.
 "Around 1700 people belonging to Bihar have used this facility so far," said UP Relief Commissioner Leena Johri.
Around 2000 people belonging to different parts of UP in these camps have already left for their native places via local conveyance or trains.
State Bank of India has set up currency exchange counters at Gorakhpur camp for tourists carrying Nepal's currency.
Chief Secretary Alok Ranjan on Wednesday directed the Divisional Commissioners and District Magistrates to mobilise Non-Government Organisations (NGOs) and other local social welfare organisations to contribute relief material like tents, blankets, carpets, drinking water, chlorine tablets, biscuits, baby food, disposable plates, medicines, sanitary kits and earth moving equipment for earthquake victims in Nepal.
The death toll in UP has reached to 16 whereas 100 have been reported to be injured so far.