UP govt offers help for quake-hit Nepal
Lucknow: Uttar Pradesh government has assured all possible help to Nepal in the wake of the devastating earthquake and will send water, food packets and medicines to the Himalayan country.The decision was taken by Uttar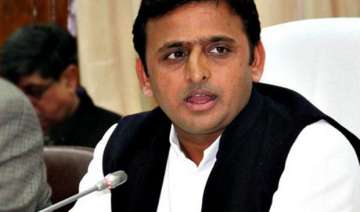 PTI
April 26, 2015 8:15 IST
Lucknow: Uttar Pradesh government has assured all possible help to Nepal in the wake of the devastating earthquake and will send water, food packets and medicines to the Himalayan country.
The decision was taken by Uttar Pradesh Chief Minister Akhilesh Yadav to send 10 trucks of mineral water, 10 trucks of biscuits and one truck of medicines for help to Nepal tomorrow, a government spokesperson said.  The state government and the people of Uttar Pradesh are with the country in this time of crisis, Akhilesh said.  The government has also directed the district magistrates of all regions to set up a control room, the spokesperson said, adding, various hospitals, fire fighting services, and police have been asked to be on high-alert.
A 24-hour Control Room has been set up at Uttar Pradesh Disaster Management Department in Gomti Nagar to provide all help and information round the clock.  The numbers to the Control Room are -0522-4015703 and 0522-4915723, he said.
Nepal was today struck by the worst earthquake in 80 years, leaving nearly 1,500 people, including two Indians, dead in flattened houses and buildings including the iconic Dharhara tower and renowned Darbar Square in the heart of the capital.
The tremors were also felt in northern and eastern parts of India, killing 36 people and injuring close to 200 others.