UP police lathicharge villagers blocking NH93 after road mishap
Hathras, UP, Aug 4: Police resorted to lathicharge near Hathras Gate on National Highway 93 today after villagers blocked the highway and stoned passing vehicles. The villagers of Rahna were angry after a speeding dumper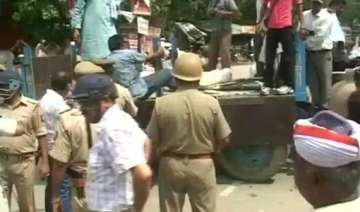 India TV News Desk
August 04, 2013 18:28 IST
Hathras, UP, Aug 4:
Police resorted to lathicharge near Hathras Gate on National Highway 93 today after villagers blocked the highway and stoned passing vehicles.
The villagers of Rahna were angry after a speeding dumper hit a cycle carrying three youths, killing two of them.
The dumper driver was arrested.
Police initially persuaded the villagers to lift the blockade but when the protesters turned violent, they resorted to lathicharge.
Both the bodies have been sent for post mortem.