UP Politics Afflicted With 'Mamu' Syndrome, Says Amar Singh
Kanpur, Jan 9 : Lok Manch Party chief Amar Singh on Sunday said, Uttar Pradesh politics has been afflicted with 'Mamu' syndrome. He said, 'Ma' stands for Mayawati, and 'Mu' stands for Mulayam.  Addressing a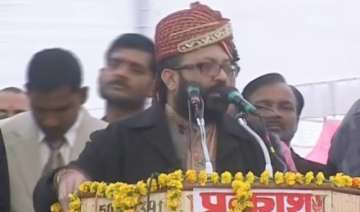 India TV News Desk
January 09, 2012 10:13 IST
Kanpur, Jan 9 : Lok Manch Party chief Amar Singh on Sunday said, Uttar Pradesh politics has been afflicted with 'Mamu' syndrome. He said, 'Ma' stands for Mayawati, and 'Mu' stands for Mulayam.
 
Addressing a public meeting here in Ramaipur with  Rampur MP Jayaprada, Amar Singh said, Mulayam Singh cannot escape the charge that he was the "political godfather" of underworld don D.P.Yadav, and Yadav was his "political offspring".
 
Amar Singh said: "You (Mulayam) made him MLA, and you made him minister."
 
D.P.Yadav was sought to be re-inducted into SP this time by party bigwig Azam Khan, but Mulayam Singh Yadav's son Akhilesh Yadav put his foot down.
 
On Babu Singh Kushwaha, Amar Singh said, UP chief minister Mayawati kept him as her 'babu' for five years, and after "milching crores" showed him the way out, when she found that Kushwaha couldn't be saved from CBI.
 
Amar Singh said, it was a shame for BJP that it publicly took such a 'kalank' (infamy) by inducting a politician like Kushwaha.
 
The situation has now come to such a pass that both SP and BJP were practically persuading defectors to join their parties, said Amar Singh.