US President Barack Obama's likely schedule of India visit
New Delhi: US president Barack Obama will be the chief guest at the Republic Day parade in Delhi on January 26 and subsequently hold bilateral talks with Prime Minister Narendra Modi. As the Narendra Modi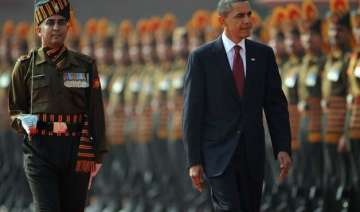 India TV News Desk
January 21, 2015 14:00 IST
New Delhi: US president Barack Obama will be the chief guest at the Republic Day parade in Delhi on January 26 and subsequently hold bilateral talks with Prime Minister Narendra Modi. As the Narendra Modi government seeks to make its first Republic Day and the visit of US President Barack Obama something to remember, the Indian government is taking no chance in offering unprecedented security arrangements for the US president.
As part of the plan, Delhi Police is installing 15,000 CCTV cameras for Republic Day which will have US President Barack Obama as the chief guest. Over 45,000 personnel from Delhi Police and paramilitary forces will also be on the streets of the capital on January 26, officials said. A special "bulletproof" enclosure has been designed for the section where President Pranab Mukherjee, Modi and Obama will be seated. There will be a seven-layer security ring around the VVIP enclosure. A multi-agency control room will monitor surveillance operations across the Capital.
Here is the likely schedule of the US president during his India visit:
January 25
US President Barack Obama reaches Delhi in the early hours of January 25.
The US President will receive Guard of Honour at Rashtrapati Bhawan. Thereafter, he will visit Rajghat.
Following that Obama will be in Hyderabad House for the summit meeting with PM Narendra Modi.
Obama is also expected to meet India-US CEO Forum the same day.
January 26
Till noon Obama will be the Chief Guest at the Republic Day Parade at Rajpath.
Obama and Modi will jointly interact with CEOs from both sides in the evening.
In the evening he will attend the 'At Home' program at the Rashtrapati Bhawan.
Private dinner with the PM will follow at 7, RCR.
January 27
Obama will address the Town Hall meeting at Siri Fort
He will visit the Taj Mahal the same afternoon before departing for the USA in the evening.