Uttarakhand: A month after the natural disaster (watch pics)
New Delhi: Uttrakhand tragedy that took lives of thousands of people and thousands still remain untraced in the disaster that shocked the country and destroyed many families.Destruction of bridges and roads left about many pilgrims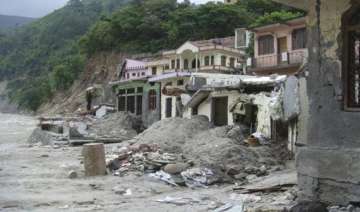 PTI
July 21, 2013 6:21 IST
New Delhi:
Uttrakhand tragedy that took lives of thousands of people and thousands still remain untraced in the disaster that shocked the country and destroyed many families.
Destruction of bridges and roads left about many pilgrims and tourists trapped in the valleys. After a month, 5748 still missing and at least 744 villages and hamlets have lost connectivity with the rest of the state.
The state government will invite declaration from families whose members are missing in Uttarakhand and Rs 2 lakh compensation - Rs 1 lakh from the state government and a matching sum from the Chief Minister's Relief Fund, would be paid to them.
As Supreme Court Friday asked the NDMA to file a status report on the rescue and relief operation in flood-devastated Uttarakhand, it was told that pilgrimage centre of Kedarnath has become a "ghost town" with scores of bodies buried under the earth brought by rain and floods.
Here we bring to you the pictures of rehabilitation and cleaning up of flood ravaged state after a month of devastation