Vadra land deals: Rajasthan govt cancels mutation of purchased land
New Delhi: The Rajasthan Government has cancelled mutation of land purchased by Robert Vadra's company Skylight Hospitality in Bikaner district on the grounds that it was allegedly bought through doubtful land deals.Vadra is son- is-law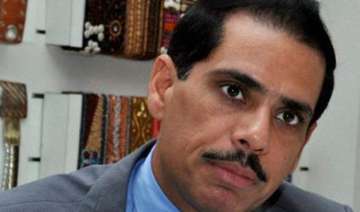 India TV News Desk
January 04, 2015 14:58 IST
New Delhi: The Rajasthan Government has cancelled mutation of land purchased by Robert Vadra's company Skylight Hospitality in Bikaner district on the grounds that it was allegedly bought through doubtful land deals.
Vadra is son- is-law of Congress President Sonia Gandhi.
Around 360 hectares of land that had been bought by the firm in 2010, has been seized by the state government.
 "As part of an inquiry it was found that the Vadra land deals in Gajner and Goileri in Kolayat tehsil were bought from fake sellers. As per instructions, the land had been seized by the state government and the mutation of the property stands cancelled.
Further investigations into the deals are underway" said Gajendra Nain, Kolayat tehsildar.
The inquiry points out that the 16 sellers who sold land to Robert Vadra in 2010 were allotted land in Gajner and Kolayat tehsils as part of compensation of those displaced for Mahajan Firing Range. Further it was sold and resold to different people.
Before the assembly polls in 2013, the Vasundhara Raje led-Rasjasthan unit of BJP had emphasized in their manifesto that they would constitute an inquiry committee over alleged dubious land deals by Vadra. As soon as Raje came to power, she reiterated her stand and constituted an inquiry.
Vadra's land dealings have been heatedly debated in the Lok Sabha and state legislative assembly.
So far there have been no flaws detected in Jaisalmer and Jodhpur, but Bikaner district reveals serious breach of law.
 The land here was barren and cheap until solar companies found the region as best suited for solar energy generation.