Vapi town waterlogged after heavy rains
Vapi, Gujarat, Jul 18: This industrial town was waterlogged on Wednesday as heavy rains lashed the area.Doongra, Chanod, Gunjan area, Chharwada falling under Vapi extension were waterlogged as four-feet deep water entered the houses. On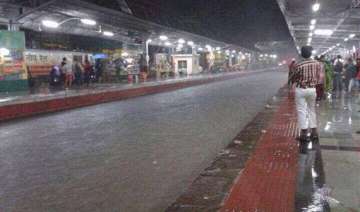 India TV News Desk
July 18, 2013 8:50 IST
Vapi, Gujarat, Jul 18
: This industrial town was waterlogged on Wednesday as heavy rains lashed the area.
Doongra, Chanod, Gunjan area, Chharwada falling under Vapi extension were waterlogged as four-feet deep water entered the houses.
On Vapi-Silvassa Road too, three and a half feet deep waterlogging took place.
There has been 38 mm rainfall in Valsad, 44 mm in Umergaon, 66 mm in Pardi, 43 mm in Dharampur and 51 mm in Kaprada. Many people have evacuated their houses fearing flood.