VHP extends bandh call for another 24 hours, demands Governor rule
Jammu: Demanding Governor rule in Jammu and Kashmir, the state unit of Vishva Hindu Parishad (VHP) yesterday extended bandh call for another 24 hours from today.     "We have decided to extend the bandh call for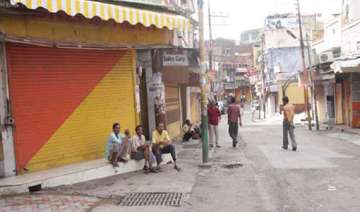 PTI
August 13, 2013 7:37 IST
Jammu
: Demanding Governor rule in Jammu and Kashmir, the state unit of Vishva Hindu Parishad (VHP) yesterday extended bandh call for another 24 hours from today.    
"We have decided to extend the bandh call for another 24 hours and appeal all business community and transporters to support the bandh call," VHP General Secretary Dr Sham Gupta told reporters here yesterday night.     
He asked for Governor's rule in the state, as judicial inquiry, announced by Chief Minister Omar Abdullah to inquire into the clashes in Kishtwar district, which left three persons dead and many others injured, is not sufficient.     
The VHP leader demanded that an independent fact finding committee should be constituted, to access the property losses of the minorities during the recent clashes, as VHP has already asked for compensation to be given to those affected.     
Gupta asked to register FIR's against the miscreants involved in the recent attacks on minorities in Kishtwar.     
Centre should first impose Governor rule in the state and then start judicial inquiry against Kitchloo, Gupta said.