Vinay Katiyar Lashes Out At Congress Over Kushwaha Issue
Lucknow, Jan 7: BJP leader Vinay Katiyar today lashed out at Congress saying it should first take action against its own corrupt chief ministers in Delhi and Goa before raising the Kushwaha issue.Katiyar told a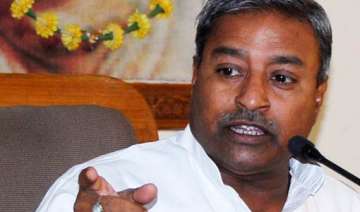 India TV News Desk
January 07, 2012 18:31 IST
Lucknow, Jan 7: BJP leader Vinay Katiyar today lashed out at Congress saying it should first take action against its own corrupt chief ministers in Delhi and Goa before raising the Kushwaha issue.

Katiyar told a press conference that Goa chief minister Digambar Kamath was neckdeep in mining corruption involving Rs 10,000 crore, while Sheila Dikshit has already been arraigned by CAG for the CWG scam.

"Congress  should first take action against its own corrupt leaders and put Home Minister Chidambaram in jail for the 2G corruption", he said.

Katiyar said, former BSP minister Baburam Kushwaha was inducted into BJP because the party leaders felt that he would help them in exposing the real masterminds behind the many scams in UP.

"If Kushwaha is sent to jail, let him go to jail, BJP will not support him. But let the real masterminds be exposed", he said.

"If the Congress thinks it is so pristine pure, then it should stop taking support from Mayawati and Mulayam's MPs, as both the leaders are facing disproportionate assets charges", he said.

'We have  not given Kushwaha a ticket, nor any party post. He will only remain a party member', Katiyar said.