Visa on arrival facility commences at Kolkata city airport
Kolkata: The NSC Bose International Airport here has now started the facility for Visa on Arrival for tourists of 43 countries.The facility would be available based on Electronic Travel Authorization (ETA), a statement by the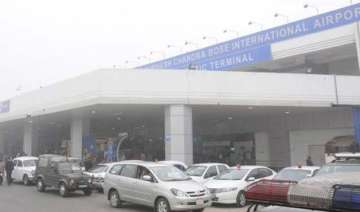 PTI
January 14, 2015 13:35 IST
Kolkata: The NSC Bose International Airport here has now started the facility for Visa on Arrival for tourists of 43 countries.
The facility would be available based on Electronic Travel Authorization (ETA), a statement by the airport director said here today.
The scheme will facilitate nationals of 43 countries to travel to India for tourism for a stay of 30 days.
To avail the ETA facility, one has to apply from his/her home country online and pay the visa fee online. Once approved, the applicant will receive an email authorising him/her to travel to India and he/she can travel with a print out of this authorization.
On arrival, the visitor has to present the authorisation slip to the immigration authorities who will then stamp the entry into the country.
Since the system started in December last year, over 500 Visa have been issued, the statement said.
The 43 countries included Australia, Brazil, Cambodia, Cook Islands, Fiji, Finland, Germany, Indonesia, Israel, Japan, Jordan, Kenya, Luxembourg, Mauritius, Mexico, Myanmar, New Zealand, Norway, Oman, Palestine, Papua & New Guinea, Philippines, South Korea, Russia, Singapore, Thailand, UAE, Ukraine, USA and Vietnam.