Vizag HPCL fire death toll goes up to 14, three more workers die
Visakhapatnam(AP): The death toll in the massive fire at state-run Hindustan Petroleum (HPCL) refinery-cum-petrochemical complex here has risen to 14 with three more workers succumbing to burn injuries at a hospital here today, an official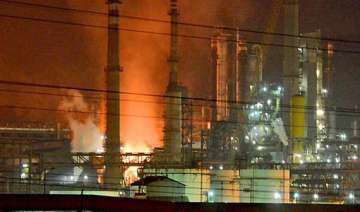 PTI
August 28, 2013 22:03 IST
Visakhapatnam(AP):
The death toll in the massive fire at state-run Hindustan Petroleum (HPCL) refinery-cum-petrochemical complex here has risen to 14 with three more workers succumbing to burn injuries at a hospital here today, an official said.
M Srinivasa Rao, Krishna Chand and A Sanyasi Rao, who were undergoing treatment at separate hospitals here, died today, refinery's director B K Namdev said.
Yesterday, two more private workers had succumbed to burn injuries at a hospital.
At present 23 patients are undergoing treatment at various hospitals in the city while eight injured persons have been shifted to burns hospital in Mumbai, where they are responding well, sources said.
On August 23 a massive fire broke out at the sprawling complex here when staffers from private companies were at work.
Prima facie a gas leak in the sea cooling water system was attributed to the massive blaze even though probe is on into the incident.
Out of the 12 persons killed in the mishap so far, only Ch Murali, in-charge of the cooling tower, was an employee of HPCL, while the other victims were private workers engaged by contract companies.
HPCL officials had earlier said that altogether 102 workers, including eight employees of HPCL, were at the site at the time of the accident. Out of the total workers present at the site, 56 workers, including seven HPCL staffers, escaped unhurt when the blaze started.
The production activity to will resume within ten days. As a precautionary measures, HPCL has cut down its production to 17,000 to 18,000 tonnes per day as against the regular capacity of 27,000 tonnes, officials said.
Meanwhile, Visakhapatnam refinery's executive director VVR Narasimham said currently 22 patients were undergoing treatment at various hospitals in the city while two patients have been discharged so far.
Three to four patients were critical, refinery's deputy general manager of public relations and corporate communications, Sushanta Dhar said.
Besides, eight victims undergoing treatment at a hospital in Mumbai are reported to be stable.
A foreign safety expert has reached the refinery today to review the safety systems in the premises, Narasimhan said adding that it would take a week to clear the debris.
State director of factories Bala Kishore inspected the site of the accident and investigation was in progress.