Watch in pics the wounds of Partition in 1947
New Delhi: August 15, 1947 witnessed the end of British colonial era in its strongest colony, India.  It was a triumph that was savioured after centuries of foreign rule, but the dawn of freedom came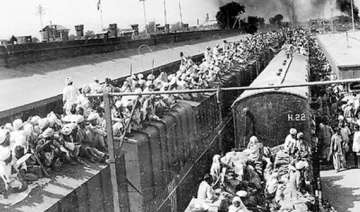 India TV News Desk
August 15, 2013 6:14 IST
New Delhi:
August 15, 1947 witnessed the end of British colonial era in its strongest colony, India.  
It was a triumph that was savioured after centuries of foreign rule, but the dawn of freedom came with the open, gaping wounds of Partition.
The northwestern  and eastern predominantly Muslim sections of India became  Pakistan, while the central, western and southern Hindu majority section became the Republic of India.
The border between the two new states was not announced until 17 August.
The border was created under the supervision of Sir Cyril Radcliffe, a London barrister who was given only five weeks to draw the new borders.
Millions of families on both sides of Radcliffe line were displaced. Thousands of people were murdered, women raped, and entire families annihiliated by marauding mobs thirsting for blood in the wake of Partition.
Let's have a look at some of the pics of Partition that divided a united India  into two: