We will retaliate if Pakistan fire: BSF
Jammu: The Border Security Force (BSF) will retaliate without fail if its troops are fired at by Pakistani forces, BSF Director General D.K. Pathak said on Tuesday."Prevalence of peace (is the) best situation. But if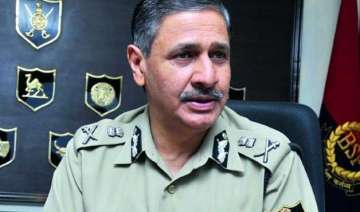 PTI
January 06, 2015 16:04 IST
Jammu: The Border Security Force (BSF) will retaliate without fail if its troops are fired at by Pakistani forces, BSF Director General D.K. Pathak said on Tuesday.
"Prevalence of peace (is the) best situation. But if Pakistan does not want peace, if firing comes from their side, we will definitely respond," he told the media.
"We cannot go on taking bullets," Pathak added, after paying tributes to a BSF trooper killed in Pakistani firing.
Pathak said the BSF never targeted civilian areas. "But they always fire first and target our civilian areas."
"Pakistan Rangers are not accepting protest notes over ceasefire violations. There is no communication between the two sides," Pathak said.
He said that the ceasefire violation by Pakistan could be an attempt to divert attention of its public from the Peshawar incident.
Nearly 140 schoolchildren were massacred in a recent terror attack at an army-run school in the Pakistani city.  
Pakistani troops targeted over 60 hamlets and scores of border posts in heavy overnight shelling in Kathua and Samba districts, with mortar bombs landing deep inside Indian territory.
Nearly 10,000 people have fled from border villages after the latest round of ceasefire violations by Pakistan which has left four jawans and a woman dead since New Year eve while five Pakistani rangers were killed in retaliatory firing by India.