We work in consultation with Nepal, says India
Kathmandu: India made it clear on Thursday that its rescue teams were working in consultation with Nepalese authorities, after coming under attack from a section of the Nepalese media.India has the largest rescue team in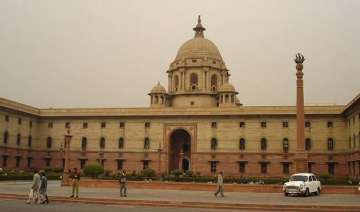 IANS
April 30, 2015 14:53 IST
Kathmandu: India made it clear on Thursday that its rescue teams were working in consultation with Nepalese authorities, after coming under attack from a section of the Nepalese media.
India has the largest rescue team in Nepal followed closely by China in the wake of the April 25 quake which killed thousands. India and China are Nepal's largest neighbours.
Some media reports here have criticised the Indian teams engaged in rescue and relief work, saying New Delhi was busy flying out its citizens and ferrying media crew to the worst-hit areas.
A statement from the Indian embassy here said the Indian government was following the rules of the game and not violating any norms.
Some Nepali media report suggest that China had asked Nepal not to allow Indian helicopters to fly near its border in the name of rescue and search work.
Beijing has said it will provide helicopters to Nepal. It is not clear if Kathmandu has accepted the Chinese offer to provide six choppers.
The Indian statement said India has so far supplied 280 tonnes of relief material including drinking water, milk, biscuits, noodles, essential medicines, tents, blankets, tarpaulin and plastic sheets.
It has also flown into Kathmandu two field hospitals, 18 army medical teams, 18 engineering teams, an Indian Air Force rapid action medical team as well as excavators and earth moving equipment.
Sixteen National Disaster Response Force (NDRF) teams working with Nepalese security agencies have saved 11 lives and retrieved 121 bodies in Kathmandu.
Three Indian Army medical teams have been deployed in Barpak village, the epicentre of the earthquake in Gorkha district, the statement said.
A 39-member Indian Army team currently at the Everest Base Camp has remained there to assist people including stranded tourists and climbers.
Indian helicopters have delivered 100 tonnes of relief material in various districts of Nepal including Gorkha, Dhading, Nuwakot, Ramechhap, Sindhupalchowk and Rasuwa.
A team from the Power Grid Corp of India is working with the Nepalese government to restore power supply in different parts of Nepal.
The Indian team has helped restore three sub-power stations in the Kathmandu Valley.
The Indian government "remains committed to extending all necessary support and assistance to the government and the people of Nepal", said the statement.