Weekly super fast train between Pune and Kamakhaya to start from April 6
Nagpur:The Railways have decided to run 26 weekly super fast trains between Pune and Kamakhaya from April 6 to July 2 to clear the extra rush of passengers.Accordingly train number 02511 will depart from Pune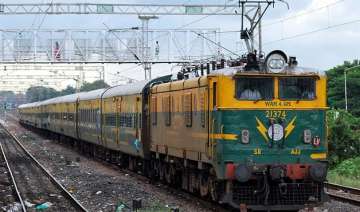 PTI
April 01, 2015 10:34 IST
Nagpur:The Railways have decided to run 26 weekly super fast trains between Pune and Kamakhaya from April 6 to July 2 to clear the extra rush of passengers.
Accordingly train number 02511 will depart from Pune every Thursday from April 9 at 10-30 AM and arrive at Kamakhaya third day (Saturday) at 3-25 PM.
It will pass through Nagpur from April 10 to July 3 at 1-20 AM. Similarly train number 02512 will leave Kamakhaya from April 6 to June 29 (Monday) at 10-05 PM and reach Pune on fourth day (Thursday) at 2-45 AM.
 The train will touch Nagpur from April 8 to July 1 at 11-15 AM, a release from Nagpur division of Central Railway, said today.
 The train will halt at Golpara town, New Bongaigaon, New Alipurduar, Cooch Behar, Rani Nagar, Jalpaigudi, Kishan Ganj, Malda Town, Rampurrahat, Andel, Asansol, Jaichandipahar, Purulia, Chakradharpur, Raurkela, Jharsaguda, Bilaspur, Raipur, Durg, Gondia, Nagpur, Bhusawal and Panvel.
 It will consist of total 14 coaches including on 2AC, one 3AC, seven sleepers and three un-reserved, the release added.