West Bengal: More than 200 crude bombs found in Birbhum, two arrested
Kolkata: 200 crude bombs were recovered by the West Bengal police today in Birbhum district. The police have arrested two people in connection to the recovered bombs. Last year in December, 70 crude bombs were recovered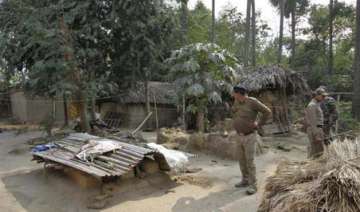 India TV News Desk
January 13, 2015 14:43 IST
Kolkata: 200 crude bombs were recovered by the West Bengal police today in Birbhum district. The police have arrested two people in connection to the recovered bombs.
 
Last year in December, 70 crude bombs were recovered from Sattore in Birbhum district.
 
In October, 2014, an explosion occurred in a house in the Khagragarh locality of Burdwan. Two suspected Indian Mujahideen terrorists were killed and a third injured. The police seized 55 improvised explosive devices, RDX, wrist watch dials and SIM cards.
 
So far the police have not been able to find any similarities in the chain of events. According to the police, no significant evidence shows that the recovered crude bombs and Burdwan blast are linked to each other.
 
The police are further investigating the case.