WhatsApp saves life of a Delhi techie in Bangalore
Bangalore: A 24-year-old software engineer from Delhi remained trapped for almost 10 hours after he fell 300 feet while rock climbing in Madhugiri, 60 km from Bangalore. But what saved him was a picture of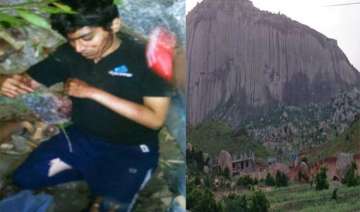 India TV News Desk
June 24, 2014 16:36 IST
Bangalore:
A 24-year-old software engineer from Delhi remained trapped for almost 10 hours after he fell 300 feet while rock climbing in Madhugiri, 60 km from Bangalore.
But what saved him was a picture of the location where he was trapped, sent by him via WhatsApp to his friend, who alerted the police.
Priyank Sharma, 32 and Gaurav Arora, 35, heard about Madhugiri, a 3,900-foot monolith about 120km north of Bangalore and decided to climb it on Sunday afternoon.
During the ascent, Priyanka got tired and decided to rest for a while, but Gaurav moved on alone and reached the top of the mountain.
On reaching the top Gaurav missed a route and fell down. He suffered severe injuries and could not be traced for several hours.
He immediately contacted Priyanka with his phone but he couldn't locate her quickly.
However, he managed to click a picture of the location where he had fallen and send it to Priyank, who had accompanied him during the climb but stopped on the way.
Priyanka finally decided to go down to the base of the mountain and inform the police at night around 9pm.
Priyanka showed the picture to the Madhugiri police, who were able to pinpoint Arora's location.
The police and fire service officials found Arora, who works with the software company MU Sigma, at 1.30 am and rescued him at 2 am on Monday morning.
He was given first aid in the Madhugiri government hospital and then shifted to a hospital in Bangalore.
He is now out of danger and is recuperating in the hospital.