Why No Sadbhavna For Godhra Train Carnage Victims, Asks Togadia
Vadodara, Jan 21: Against the backdrop of Gujarat chief minister's daylong 'Sadbhavna' fast at Godhra on Friday, senior leader of the Vishwa Hindu Parishad Pravin Togadia asked why politicians had no sadbhavna (goodwill) towards the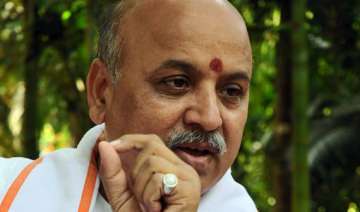 PTI
January 21, 2012 7:31 IST
Vadodara, Jan 21: Against the backdrop of Gujarat chief minister's daylong 'Sadbhavna' fast at Godhra on Friday, senior leader of the Vishwa Hindu Parishad Pravin Togadia asked why politicians had no sadbhavna (goodwill) towards the victims of the Godhra train carnage.

He was talking to reporters during a brief halt at the airport here today.

"58 kar sevaks, who were returning from Ayodhya, were burnt alive in Sabarmati train at Godhra railway station on February 27, 2002. Several children turned orphans, while many others lost their near and dear ones," he said. 

"Why leaders of political parties do not express sadbhavna towards the dependents of these 58 kar sevaks? Why are they not finding out their conditions and not looking after the welfare?," Togadia asked.