Yemen evacuation collective effort: Sushma Swaraj
New Delhi: The successful evacuation of Indian nationals from Yemen was the result of collective effort of several ministries and agencies, External Affairs Minister Sushma Swaraj said on Monday.Making a suo motu statement in the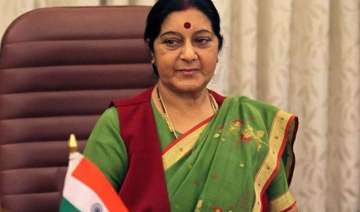 IANS
April 20, 2015 17:05 IST
New Delhi: The successful evacuation of Indian nationals from Yemen was the result of collective effort of several ministries and agencies, External Affairs Minister Sushma Swaraj said on Monday.
Making a suo motu statement in the Lok Sabha, the minister said: "It was a joint effort of several Indian ministries and agencies, supervised and coordinated by the ministry of external affairs."
The minister, who was almost inaudible amid slogan shouting by the opposition who were protesting against the land ordinance said: "We successfully evacuated Indians from Yemen under very difficult circumstances."
"As the Indian embassy was among the handful of foreign missions operational in Sana'a after the air strikes began, we received formal requests from 33 countries for assistance in evacuation of their nationals.
"We responded positively to these requests to the extent possible based on ground realities and helped nationals of 48 countries in evacuation."
The minister said India assisted nationals of Australia, Bangladesh, Bahrain, Canada, Cuba, Djibouti, Egypt, El Salvador, Ethiopia, France, Greece, Germany and Hungary, among other countries. "This received worldwide appreciation."
She said the government also ensured that Indian nationals not in possession of travel documents were provided emergency certificates by the embassy in Sana'a.
"We left no stone unturned to assist all those Indians in Yemen desirous of returning home in a timely and safe evacuation."
"Till 18 April, a total of 6,688 persons including 4,741 Indians and 1,947 foreign nationals have been evacuated by air and sea routes in this operation," she said.
She also informed the house that in view of the worsening security situation in Sana'a and after the successful conclusion of the evacuation process, India has relocated its embassy to Djibouti on April 15.
"Our embassy would continue to operate from Djibouti till the situation returns to normal in Yemen."
The minister said: "We did not stop at taking care of the evacuation process only from Yemen but went a step further. Indian Railways provided all hospitality and confirmed tickets free of charge for onward journey to their homes. The state governments concerned, especially of Maharashtra and Kerala, provided assistance to all returnees on their arrival in India."
She had a special word of praise for Minister of State for External Affairs V.K. Singh saying he personally supervised these efforts.
"He shuttled between Sana'a and Djibouti sparing no effort to accomplish this difficult task," she said.
The opposition made all efforts to disrupt the reading out of the statement, trooping to the speaker's podium and shouting slogans against the land bill.
Minister of State for Parliamentary Affairs Rajiv Pratap Rudy had minutes before tabled the amended land ordinance in the house.
The opposition, led by the Congress, shouted slogans like "Take back the land bill" and "Jai jawan, jai kisan".
After the external affairs minister completed her statement, Speaker Sumitra Mahajan adjourned the house till 2 p.m.