Yemen rescue in final leg, over 1,000 evacuated
New Delhi: India has evacuated over 1,000 nationals from strife-torn Yemen on Monday crafting its path to reach the last leg of evacuation. India also received requests for assistance from 26 countries including the US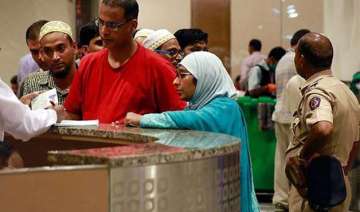 India TV News Desk
April 07, 2015 9:43 IST
New Delhi: India has evacuated over 1,000 nationals from strife-torn Yemen on Monday crafting its path to reach the last leg of evacuation. India also received requests for assistance from 26 countries including the US and France.
External Affairs Ministry's spokesperson Syed Akbaruddin tweeted on Monday evening that there has been a surge in evacuation efforts.
"Surge in evacuation efforts. 1000 plus evacuated today (Monday) from Yemen 574 by 3 flights ex Sana'a by @airindiain 479 by INS Mumbai ex Al Hudaydah," he said.
After this evacuation, approximately 1,000 Indians remain in Yemen, mostly in Sanaa, the official said.
He also said requests for assistance were growing. The 26 countries that India has received request for assistance in evacuation of their citizens include the US, Bangladesh, France, Germany, and Sri Lanka.
"Requests for Indian assistance in evacuation from Yemen keeps growing. On last count 26 requests received," Akbaruddin said in another tweet.
India has evacuated over 3,000 of its nationals from Yemen so far by air and sea.
Meanwhile, Prime Minister Narendra Modi praised the coordinated efforts by various ministries, and especially lauded External Affairs Minister Sushma Swaraj and her junior colleague VK Singh efforts.
"Salute the services of our civilian & defence officials & organisations in helping evacuate our citizens from Yemen. Continue your efforts!"
"Seamless co-operation between organisations- MEA, Navy, Air Force, Air India, Shipping, and Railways & State Govts greatly helped in rescue work."
"Colleagues @SushmaSwaraj & @Gen_VKSingh (who has been on the ground for days), have co-ordinated evacuation efforts in an exemplary manner."
Yemen is witnessing continuing fighting between the Shia Houthi rebels and the Saudi Arabia-led coalition of 10 nations, which has launched air strikes in Yemen.