Zardari Arrives In New Delhi
New Delhi, Apr 8 : In a first visit by a Pakistan President in seven years, Asif Ali Zardari arrived here today for a brief stopover to join Prime Minister Manmohan Singh for a lunch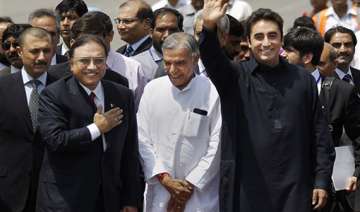 PTI
April 08, 2012 14:37 IST
New Delhi, Apr 8 :
In a first visit by a Pakistan President in seven years, Asif Ali Zardari arrived here today for a brief stopover to join Prime Minister Manmohan Singh for a lunch that will be preceded by a one-on-one meeting during which they will discuss crucial bilateral issues.  
Zardari, who landed here at 12.10 pm at Palam Air Force Base (technical area) along with his son and heir apparent Bilawal Bhutto, Interior Minister Rehman Malik and some senior officials, was received by minister-in-waiting P K Bansal, Foreign Secretary Ranjan Mathai and Pakistan High Commissioner Shahid Malik among others.
Attired in a dark coloured business suit, Zardari waved at the mediamen but did not oblige them with any comments. He straight drove to the Prime Minister's official Race Course Road residence.
Here on a day-long "private visit", 56-year-old Zardari will fly to Ajmer to pay obeisance at the shrine of Khwaja Moinuddin Chishti after his meeting with Singh.  
The issue of terrorism and presence of those involved in anti-India activities in Pakistan is likely to figure in the meeting between Zardari and Singh, given that there is a renewed pressure on Islamabad to take action against Jamaat-ud -Dawah chief Hafiz Saeed after the US announcement of USD 10 million bounty for information leading to the prosecution of the Lashkar-e-Taiba founder.
The meeting is also seen as very significant in the backdrop of improving ties between the two countries with increased Confidence Building Measures (CBMs) to bolster cross LoC trade.
Though there is no structured agenda for the meeting, the two leaders are expected to talk on issues of mutual concern.  Zardari and Singh will meet today after almost three years.
They had last met in Yekaterinburg in Russia in 2009.
Bilawal, who was dressed in a dark pathan suit, also waved at the media.Within minutes, the convoy of about 25 cars and an ambulance sped off to the Prime Minister's residence. 
The entire route from the technical airport to the 7 RCR residence was sanitised with heavy police deployment.
Delhi police commandos were also roped in.  Just before Zardari landed here by a special Pakistan Air Force plane, another Pakistani military aircraft flew in with other members of his delegation.
Ahead of the visit, the two countries have sparred over Saeed with Islamabad maintaining that they have not received any "concrete" proof against the JuD chief and New Delhi asserting that no amount of denial by them can exonerate him. 
On the eve of his India visit, Zardari, however, said yesterday that he did not expect the issue of Saeed to be the focus of his meeting with Singh, amid growing pressure on Pakistan to prosecute the JuD chief for his role in the Mumbai attacks.
In Islamabad, Foreign Office spokesman Abdul Basit said yesterday that Zardari will invite Singh to visit Pakistan by the end of this year.
"President Zardari will invite Prime Minister Singh to visit Pakistan by the end of this year," Basit said.