2016 Flashback: Here's a look back at the personalities we lost during the year
The year 2016 saw us bid goodbye to a number of personalities, including mountaineers, sportsmen, actors to astronauts, directors to doctors, musicians to mathematicians, philosophers to philanthropists and an array of acclaimed authors.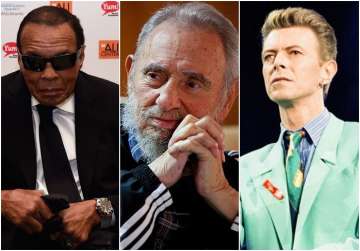 India TV News Desk
New Delhi
December 29, 2016 15:12 IST
The year 2016 saw us bid goodbye to a number of personalities, including mountaineers, sportsmen, actors to astronauts, directors to doctors, musicians to mathematicians, philosophers to philanthropists and an array of acclaimed authors.
Three Americans 
The biggest loss was of three Americans who helped to make our world healthier: Donald Henderson, who led the global effort to eradicate smallpox; Denton Cooley, the first to implant an artificial heart; and Henry Heimlich, who developed the technique to help those choking and also a valve to remove blood and air from the chest cavity.
Abdul Sattar Edhi
Pakistan's Abdul Sattar Edhi, whose sobriquet "Father Teresa" offered a perfect overview of his humanitarian efforts in Karachi, also breathed his last this year.
Fidel Castro
Among statesmen, the foremost was of Cuban revolutionary colossus Fidel Castro, who passed away at the age of 90 on November 25. 
Another prominent leader who passed on was Israel's Shimon Peres -- in the year marking the 40th anniversary of his greatest triumph: the military operation to successfully rescue passengers of an hijacked Israeli airliner from Idi Amin's Entebbe.
Other statesman who died were former Nepalese Prime Minister Sushil Koirala; long-time German Foreign Minister Hans-Dietrich Genscher, who oversaw German reunification and closer European links; longest-serving Singaporean President S.R. Nathan; Tajikistan and Uzbekistan's first post-Soviet leaders Qahhor Mahkamov and Islam Karimov; Jamshid Amouzegar, possibly the last effective premier of the Shah of Iran; and US President Richard Nixon's Defence Secretary Melvin Laird, who began withdrawing American soldiers from Vietnam.
Then there was Egyptian diplomat Boutros Boutros-Ghali, whose tenure as UN Secretary General (only one term due to US opposition) saw the world body try to confront the horrific crises in Bosnia and Rwanda, and John Glenn, who after becoming the first American in space, had a long career as US Senator.
Royal deaths included the late Shah of Iran's twin (and more forceful) sister Princess Ashraf, Thai King Bhumibol Adulyadej Rama IX, whose 70-year-reign made him the world's longest-serving head of state, and Japanese Emperor Akhito's paternal uncle, Prince Takahito, who at 100 was the oldest living royal personage.
Journalists 
From journalism, there was Egyptian Mohamed Heikal, a close confidante and speech-writer of President Gamal Abdel Nasser; longtime BBC host Terry Wogan; and American Michael Herr, whose "Dispatches", comprising his reportage of the Vietnam war, was hailed as one of its most profound depictions.
From Showbiz
The world of showbiz was badly hit. Among singers who sang their last notes were David Bowie; Glenn "The Heat is On" Frey, late of the Eagles; Prince; Marni Nixon, who sang for the heroines in classics like "The King and I" and "My Fair Lady"; Leonard Cohen and George Michael. Also to be mentioned is prolific classical music conductor Neville Mariner.
Bowing out were actors Alan Rickman, famous as Severus Snape in the Harry Potter movies; Frank Finlay; George Kennedy, known for his Oscar-winning performance in "Cool Hand Luke"; Carlo Pedersoli alias Bud Spencer; Gene 'Willy Wonka' Wilder; Robert Vaughn, the last of "The Magnificent Seven"; "Star Wars" actress Carrie Fisher and her mother and Hollywood legend Debbie Reynolds, who died a day after her daughter.
Directors Guy Hamilton, who helmed four James Bond movies from "Goldfinger" to "The Man With the Golden Gun" as well as some war movies; Michael Cimino, who never again replicated the success of his "The Deer Hunter"; Iranian Abbas Kiarostami; and Garry Marshall, known for "Pretty Woman" and "The Runaway Bride" also said adios.
Sportspersons 
From the world of sports, the losses included American boxer Muhammad "I'm the Greatest" Ali; American golfer Arnold Palmer; Japanese mountaineer Junko Tabei, the first woman to summit Everest; Russian chess Grandmaster Mark Taimanov, who was also a skilled concert pianist; and discus-thrower Nina Ponomaryova, who became the first Soviet athlete to win an Olympic gold (Helsinki 1952).
Then, February 19 was a black day for literature with the passing of both Italian philosopher and literary novelist Umberto Eco and reclusive author Harper Lee, whose sole book "To Kill A Mockingbird" brought her lasting fame.
Nobel Winners
Also dying were Nobel winners Imre Kertesz, Elie Wiesel (also an Holocaust survivor), Dario Fo, Alvin Toffler (the first to dwell deeply on the social impact of technology) and Irish short-story writer William Trevor.
To be remembered as well are US philosopher and computer scientist Hilary Putnam; Iraqi-British architect Zaha Hadid, the first woman to receive prominent awards in her field; British sociologist Anthony Smith, who did pioneering work on nationalism; and US Nobel laureate Thomas Schelling, who used gaming theory to explain conflict.
However, one who will not be missed is Bernardo Provenzano, or 'Capo di tutti capi' (boss of all bosses) of the entire Sicilian Mafia, who died a decade into his life term.
(With IANS inputs)