After 'Trump-Sharif' phone call, Pakistan sending envoy to meet Trump transition team
After the telephonic conversation between US President-elect Donald Trump and Prime Minister Nawaz Sharif, Pakistan is sending Tariq Fatemi, Pakistan PM's special assistant for foreign affairs, to the United States to meet officials of the Trump tran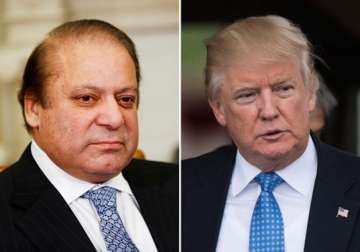 Source: PTI
India TV News Desk
New Delhi
December 03, 2016 12:36 IST
After the telephonic conversation between US President-elect Donald Trump and Prime Minister Nawaz Sharif, Pakistan is sending Tariq Fatemi, Pakistan PM's special assistant for foreign affairs, to the United States to meet officials of the Trump transition team.
According to a report in 'Dawn', Pakistan's Ambassador to the United States Jalil Abbas Jilani has said that besides meeting members of the Trump transition team,  Tariq  Fatemi will also meet officials of the outgoing Obama administration.
"This is a very important visit as much has happened in Washington since the Nov 8 elections," Jilani said.
Donald Trump has set up a provisional team, encouraging foreign leaders and officials to visit his headquarters in New York for familiarisation meetings before he takes oath on January 20.
Fatemi's visit follows a telephone conversation between Prime Minister Nawaz Sharif and Trump on Wednesday during which the US leader expressed his desire to continue a productive relationship with Pakistan.
Donald Trump has been criticised by both the opposition Democrats and the media for "talking to foreign leaders… without consulting US officials''.
According to a statement issued by the office of Pakistan Prime Minister, Donald Trump told Nawaz Sharif that Pakistan is a "fantastic" country full of "fantastic" people that he "would love" to visit as president.
The statement also added that Trump described Sharif  as a "terrific" leader."
"Pakistanis are one of the most intelligent people. I am ready and willing to play any role that you want me to play to address and find solutions to the outstanding problems," the statement quoted Donald Trump as saying.
The Trump transition team, however,  clarified on Friday that though US president-elect Donald Trump did have a 'productive conversation' with Pakistan Prime Minister Nawaz Sharif over telephone on Wednesday, it lacked the "flowery language" included in the Pakistani version of this talk.
According to a report in 'Dawn', the Trump transition team pointed out that the Pakistani readout of the talk "committed the president-elect to more than what he meant".