Bangladesh police nab two accomplices of Dhaka attack masterminds
Pulling off a big catch, Bangladesh's elite force Rapid Action Battalion (RAB) today arrested two accomplices of the two masterminds of the terror attack on a cafe that killed 21 persons, mostly foreigners. The two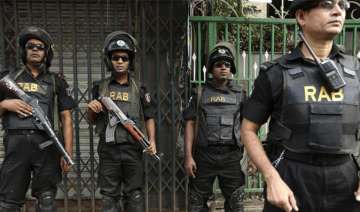 India TV News Desk
Dhaka
December 20, 2016 18:32 IST
Pulling off a big catch, Bangladesh's elite force Rapid Action Battalion (RAB) today arrested two accomplices of the two masterminds of the terror attack on a cafe that killed 21 persons, mostly foreigners.
The two are also members of Neo-JMB -- an offshoot of the banned militant outfit Jamaatul Mujahideen Bangladesh, which had been blamed for the July 1 attack on the Holey Artisan Bakery in Dhaka's diplomatic quarter, Xinhua news agency reported.
RAB spokesperson Mufti Mahmud Khan said Atikur Rahman Milon and Khademul Islam Khadem were arrested with some books, leaflets and weapons.
Tamim Chowdhury, a Bangladeshi-Canadian, and Sarwar Jahan, identified as Neo JMB chief who was killed during a raid on October 8, were believed to be the masterminds of the attack.
Claimed by Islamic State, the attack had left the hostages, mostly foreigners and two police officers dead. The 11-hour siege ended after the army stormed the Holey Artisan Bakery popular with expats in the diplomatic zone here, killing six attackers and capturing one alive.