China hikes its defence budget to Rs 10 lakh cr, thrice that of India
India TV News Desk
New Delhi
06 Mar 2017, 14:20:12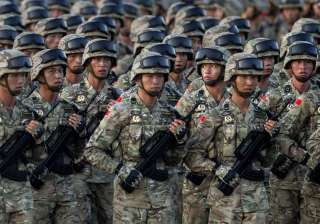 Contrary to expectations that China will announce a double-digit rise in its defence budget for 2017, Beijing is set to increase military spending by 7 per cent, its lowest increase in over two decades. 
This will take Chinese defence spending to around $151 billion (approx Rs 10 lakh crore) – thrice India's $52 billion (approx Rs 3.5 lakh crore). 
Speaking to the Associated Press, an unnamed official from China's finance ministry pegged the defence budget at 1.044 trillion Yuan or $151 billion, a 7 per cent increase from last year's outlay. The 7 per cent hike was announced by National People's Congress spokesperson Fu Ying. In comparison, in the fiscal year starting April, India plans to spend 3.6 lakh crore rupees or $51 billion.
The defence budget will account for 1.3 per cent of China's GDP and will rise to 1.04 trillion yuan (around $151 billion), according to the finance ministry.
Chinese Prime Minister Li Keqiang reaffirmed the government's commitment to the reform of the armed forces, aimed at modernising the outfit and reducing troops by 300,000 by the end of this year.
The Union Budget 2017 saw a 6 per cent hike in the defence budget.
Experts believe that the paltry hike in the defence budget has dashed hopes of any major step towards military modernisation this year despite heightened tensions with Pakistan and the increasing military capabilities of China.