CNN documentary on Vladimir Putin part of anti-Russian propaganda, says Kremlin
India TV News Desk
New Delhi
15 Mar 2017, 9:53:55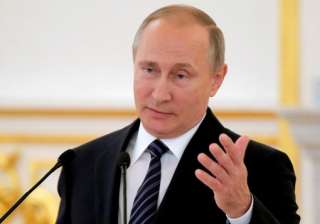 Russia on Tuesday said that it was not surprised by the new CNN documentary about Russian President Vladimir Putin as it was part of anti-Russian propaganda.
According to Xinhua news agency, Russian President's spokesman Dmitry Peskov said that the documentary was based on opinions that lacked substance.
"This is more material in line with previous hysterical and emotional material, which is based on opinions that have nothing substantial, opinions that are most often absolutely fictitious," Peskov said.
"Quite odious material, part of what has already been said, there is nothing new there," he added.
He said that Putin has not had time to watch the film aired by CNN early Tuesday Moscow time, but he got acquainted with the synopsis in the media.
The CNN special report "The Most Powerful Man in the World" attempts to examine the character of the Russian leader as well as his role in the world politics and relationship with the United States.
(With IANS inputs)