Hafiz Saeed's son hints at Dawood Ibrahim's direct link with 'banned' JuD
India TV News Desk
New Delhi
03 Mar 2017, 8:48:20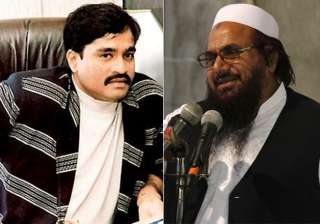 Mumbai serial blasts accused Dawood Ibrahim continues to be a talking point between India and Pakistan at various platform but this time, a terror group has made a direct reference to the don – confirming New Delhi's stand that the most-wanted terrorist was getting aid from the provincial government. 
According to reports, a new video of Talha, son of Jamaat-ud-Dawa (JuD) chief militant Hafiz Saeed, has emerged in the public domain in which he has made a direct reference to Dawood. 
In the video, which was accessed by The Times of India, Talha was seen inciting a crowd to wage war against India using Dawood's name.
Talha was heard asking the crowd 'if they wanted to become a judge, police or doctors' to which the crowd said 'no'. 
When Talha asked the gathering 'if they wanted to become Dawood', the crowd replied: 'yes'. 
The video was reportedly shot on 'Kashmir Day' on February 5 somewhere in Pakistan. 
He even went on to ask them 'if they will become Burhan Wani', the crowd said 'yes'. Burhan was a Hizbul militant who was shot dead in Kashmir last year during an encounter with security forces.
Meanwhile, Indian intelligence agencies are now probing the authenticity of the video and also if D Company and JuD are operating in collusion.
Earlier in January, the Pakistan government had put Hafiz Saeed under house arrest but now it seems his son has emerged as a new leader of the banned group. 
India had in past handed over many dossiers on underworld don's presence in Pakistan, but Islamabad has always refused the acknowledge them.