In meeting with Trump, PM Modi to discuss terrorism, US military aid to Pakistan
The government hinted on Thursday that among the key topics to be raised by PM will include terror emanating from Pakistan, regional security, and also the US military aid to Islamabad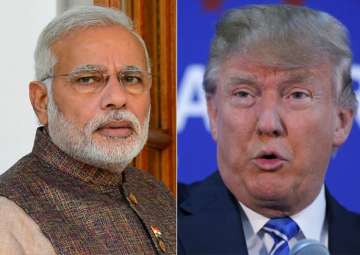 India TV News Desk
New Delhi
June 23, 2017 8:18 IST
Ahead of Prime Minister Narendra Modi's maiden visit to Washington for his meeting with US President Donald Trump, the government hinted on Thursday that among the key topics to be raised by PM will include terror emanating from Pakistan, regional security, and also the US military aid to Islamabad. 
Asked whether Modi will raise with Trump the issue of cross-border terrorism emanating from Pakistan, Baglay said India's concerns regarding it are very well known and that it was logical to assume that matters relating to regional and global security will be discussed. 
"Terrorism that emanates from there (Pakistan) affects not only India, but other countries in South Asia and the world over," he said.
"We do talk to our friends and partners on how to counter terrorism, cross-border terrorism and international terrorism," he said. 
On whether India will apprise the US about its concerns over the US military aid to Pakistan being diverted for anti-India activities, Baglay did not give a direct reply, but said such concerns have been conveyed whenever there has been an occasion.
Modi is scheduled to leave India on Saturday (June 24) morning. He would first visit Portugal before reaching Washington DC.
The Prime Minister would meet the CEOs and senior representatives from the business community on June 25, Baglay said.
"On (June) 26 forenoon, there would be calls on the Prime Minister by senior officials and dignitaries of the US administration. And in the afternoon, we have the official engagement with President Trump," said Baglay.
While it would be the first time Modi would be meeting the US President, the two have already had three "useful" conversations over telephone.
Asked whether incidents of alleged racial attacks will be raised by the prime minister with the US president, Baglay said not all attacks were racial.
"Whenever there have been attacks on Indians because of some reason or the other, we have seen that they have been condemned very strongly by the US government," he said. 
The MEA spokesperson said the Indo-US relationship has been very robust and strong and thrust would be to take it further.