Indian sportsman held in US for sexually abusing minor girl
An Indian athlete has been arrested in the US on charges of sexually abusing a minor girl. The 24-year-old sportsman hails from Kashmir and he had arrived here few days ago to take part in a snowshoe competition.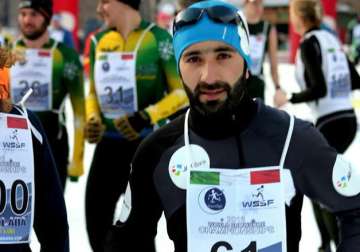 India TV News Desk
New York
March 03, 2017 21:38 IST
An Indian athlete has been arrested in the US on charges of sexually abusing a minor girl. The 24-year-old sportsman hails from Kashmir and he had arrived here few days ago to take part in a snowshoe competition. 
Police said that Tanveer Hussain arrived in the small village of Saranac Lake in New York state for the World Snowshoe Championships. He has been charged with sexual assault and endangering the welfare of a child. 
Police arrested Tanveer on Wednesday after the girl, who is under the age of 13, accused him of sexually abusing her. 
Police Sergeant Casey Reardon said that the girl and her parents reported the abuse to police. It took place around Monday evening in the village. After the complaint, Reardon said police located Tanveer who has been cooperating in the case.
Tanveer was arraigned and his lawyer entered a not-guilty plea on Tanveer's behalf. 
"I could not have entered anything else but a not-guilty based on the information I had," his lawyer Brian Barrett said. 
"Based on the limited communications I could have with Tanveer, it did not allow for me to properly evaluate the case and make an informed decision on behalf of my client. They are merely allegations alone. Not only is he innocent, he is presumed innocent by law. That is how he should be seen in the community and by anyone paying attention in this case," Barrett added. 
Tanveer and Abid Khan, president of the Snowshoe Federation of India, had planned to return home this week. 
A media report said that 'a visibly upset Tanveer', with hands shackled and still wearing a maroon World Snowshoe Championships hat, pleaded with the judge not to send him to jail.
"Sir, please. Help me," Tanveer said. 
The judge decided not to accept a plea because he was not sure if Tanveer fully understood the charges against him. He remanded him to the Essex County Jail in Lewis in lieu of USD 5,000 cash bail or USD 10,000 bond. A preliminary hearing on his case is scheduled on next Monday.
Tanveer had garnered much attention before arriving for the championship after the US Embassy in New Delhi denied him and Khan visas around the same time President Donald Trump had issued an order barring people from seven Muslim-dominant countries to the US. Though India was not among the seven countries, the denial of visa was seen associated with the executive order. 
Hussain was allowed a visa to enter the US for the competition following intense lobbying from local officials and residents in the Adirondacks, as well as by US Senators Kirsten Gillibrand and Charles Schumer. 
Khan said that Tanveer told him he was innocent. Khan said the girl had followed him and Tanveer during their stay here and Tanveer had told the girl to go back to her home. 
"He (Tanveer) says there was no contact at all," he said. 
When asked about Khan's account, Reardon said police have enough evidence for probable cause. 
"We are confident in our investigation and the results of it. There were other witnesses. Social media was involved. There is evidence that supports the charges," Reardon said. 
Khan (34) said that Tanveer was not aware that the girl is a minor. 
"We told him (Tanveer) later that she is a minor. He does not understand proper English, so he does not know," Khan said. 
Khan said that he and Tanveer were embarrassed by this situation, both for themselves and for Saranac Lake. 
"It is embarrassment because people gave us love, respect, everything. They opened their hearts to us. I am more responsible because it should not have happened. I am the guy who is here representing everything. It is even more embarrassment for the people of Saranac (Lake). We will not be able to show our face to them again," Khan said.
The Indian snowshoe team became a cause for local residents, who had campaigned to bring them to the Adirondacks, assisting with fundraising and other logistics. 
Earlier this week, Tanveer was welcomed warmly by Saranac Lake. 
"It is amazing to be here among the people of Saranac (Lake)," Khan had said. 
Tanveer's story drew international attention from the BBC network. He finished in 114th place in Saturday's 8-kilometer championship race. Tanveer was supposed to leave the US yesterday, after the World Snowshoe Championship that concluded on February 25.
With PTI Inputs