ISI's new chief for 'aggressive measures' to 'undermine India's presence in Afghanistan'
Soon after General Javed Qamar Bajwa took charge as Chief of Army Staff, the Pakistan army appointed Lt Gen Naveed Mukhtar as the Director-General of the Inter-Services Intelligence (ISI). While, it remains to be seen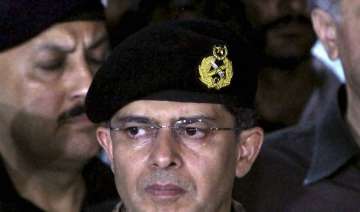 Source: PTI
India TV News Desk
Islamabad
December 13, 2016 8:15 IST
Soon after General Javed Qamar Bajwa took charge as Chief of Army Staff, the Pakistan army appointed Lt Gen Naveed Mukhtar as the Director-General of the Inter-Services Intelligence (ISI).
While, it remains to be seen how the new ISI chief's will take to India but one can get a glimpse of Mukhtar's strategy and his views on the relationship between India and Afghanistan and the troubled neighbourhood.
"Pakistan's past, present and future is closely linked with Afghanistan. A peaceful, united and stable Afghanistan is critical for Pakistan's security and is a top policy objective," he wrote in that thesis, entitled  "Afghanistan – alternative futures and their implications" (PDF).
In the paper, Mukhtar has advocated taking  "aggressive measures" to undermine India's role in war-torn Afghanistan to prevent Kabul from becoming a "proxy" for New Delhi.
"At the same time, Pakistan needs to prevent the opening of another hostile front should Afghanistan emerge as a proxy for India. Consequently, Pakistan will closely follow India's efforts to influence Afghanistan and may take aggressive measures to undermine India's efforts in this regard," he added in the section of the paper listing the key players in the region.
Mukhtar's views on the Taliban and India are largely in line with the thinking within the higher echelons of the Pakistan Army.
In sync with the trajectory upheld by the Pakistan military on handling the conflict-ridden Afghanistan, Mukhtar, in the thesis for his Masters in Strategic Studies, envisages the accommodation of the 'moderate Taliban' in the governance of the country.
India and the US have often accused Pakistan of backing the Afghan Taliban and the Haqqani Network. 
India has huge stakes in the development of Afghanistan and has made major strides in the reconstruction of public infrastructure in the war-ravaged country through visible symbols like the new parliament building, Salma friendship dam, Afghan National Agriculture Science & Technology University, Kandahar, and many other projects in the health, power and education sectors.