Pakistani cinemas to resume screening Indian films from December 19
Cinemas in Pakistan will start screening Indian movies from December 19 after film exhibitors and cinema owners announced the end to a self-imposed ban on screening of Indian films.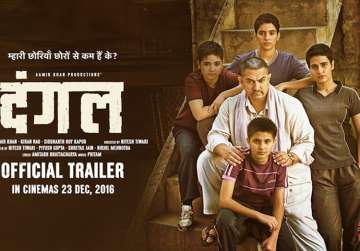 India TV News Desk
Karachi
December 18, 2016 12:59 IST
Cinemas in Pakistan will start screening Indian movies from December 19 after film exhibitors and cinema owners announced the end to a self-imposed ban on screening of Indian films that was put in place amid escalating tensions between the two countries following the Uri terror attack. 
The cinema houses' owners said that they had only suspended the screening of Indian films but had not completely banned them.
"The suspension that was in place will be lifted on December 19," confirmed Nadeem Mandviwala of Atrium cinemas.
Zoraish Lashari, Chairman of the Film Exhibitors Association, told reporters that after thorough discussions with parties concerned, it has been decided screening of Indian films would resume from December 19. 
"The cinema owners and other stakeholders in the industry have been hit by the decision to impose a temporary suspension on screening of Indian films. A lot of investment has been made into upgrading or building new cineplexes and multiplexes and the business at this time is dependent on screening of latest Indian films," he said. 
Lashari said the cinema owners and exhibitors had only taken a self-imposed suspension of screening of Indian films and that it was not a ban. 
The Pakistan Film Exhibitors and Distributors Association, which includes most owners of cineplexes, multiplexes and single screen cinemas in the country, had announced to "temporarily" stop screening Indian films soon after tensions escalated between Pakistan and India over cross border firing incidents in late September. 
"We lifted the suspension as a cinema guild. We took this decision because we would like to support them (Indian cinemas) and expect them to support us," said Aadil Mandviwala, Director Mandviwala Entertainment, according to a report by the Dawn.com. 
"It takes two hands to clap, it does not matter if one hand is bigger or smaller. At the end of the day, its the clapping that counts. This is the message that we want India to hear," added Aadil.
The first film to be screened will be Nawazuddin Siddiqui's Freaky Ali.
In September, the exhibitors and cinema owners had taken the decision voluntarily after the Indian Motion Pictures Producers' Association (IMPPA) announced a ban on Pakistani artistes and technicians working in India. They said the decision was taken as a protest against the ban of Pakistani artists in India and to show solidarity with the armed forces of Pakistan.
Sources in the industry told PTI that most of the cinema owners, exhibitors and importers of Indian films had got panicky after Pakistani films including old and fresh releases and even latest Hollywood movies failed to fill up the halls. 
"Plus in recent weeks several Indian films have been released while everyone is eagerly anticipating the release of Aamir Khan's "Dangal"," a source said. 
One source, however, said some cinema owners were still apprehensive of any backlash from religious parities or groups once they resumed screening of Indian films and have asked for protection if required. 
"A private media group is presently trying to import and release "Dangal" in Pakistan," the source added. 
Lashari said that first unreleased Indian films would be screened after which they would have negotiations with Indian distributors to continue the import of movies into Pakistan. 
Pakistan's leading English newspaper "Dawn" had in a editorial last month termed the ban on screening of Indian films in Pakistani cinemas as "damaging" and said Pakistani cinema houses were losing money because of the move. 
"Political concerns are indeed genuine, but they should not come at the cost of cultural exchanges that bring benefits to both sides of the border," the editorial had said. 
The Media and Marketing Manager of a major chain of cineplexes, Sabina Islam, said 75 per cent of the revenues generated in the industry came from screening of Indian films. 
Pakistan is considered as the third largest market for Indian films. 
Indian movies had returned to Pakistani cinema houses only in 2008 after a 43-year-long hiatus imposed during the 1965 war.