Paris Accord not tough enough on India, China, says Trump as he pulls US from climate agreement
President Donald Trump declared Thursday that he was pulling the US from the landmark Paris climate accord.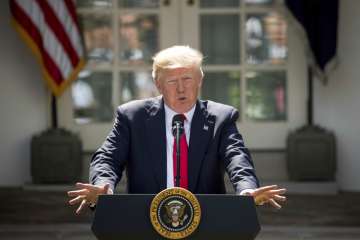 Source: AP
India TV News Desk
Washington
June 02, 2017 7:07 IST
Claiming that the Paris climate accord was not tough on India and China, President Donald Trump declared Thursday that he was pulling the US from the landmark agreement. The announcement deals a major blow to worldwide efforts to combat global warming and also distances the US from its closest allies abroad.
Trump alleged that the Paris agreement on climate change agreed upon by more than 190 countries was "negotiated poorly by Obama admin and signed out of desperation". He said that his decision was "a reassertion of America's sovereignty. Trump said he was "elected to represent the citizens of Pittsburgh, not Paris."
"In order to fulfil my solemn duty to protect our citizens, the United States will withdraw from the Paris Climate Accord... We are getting out and we will start to renegotiate," Trump said at the Rose Garden of the White House.
Trump said he wants a fair deal for the American businesses to stay in the Paris agreement on climate change.
He said the deal, agreed upon by more than 190 countries, gives advantages to countries like India and China.
"India makes its participation on receiving billions and billions of dollars from developed countries. Paris accord is very unfair at the highest level to the United States. The current India will be allowed to double its coal production and so does China," Trump alleged.
"This agreement is more about climate and more about others getting advantages. This put the United States of America to a very very big economic disadvantage," he said, adding that as a result of the deal, the US would not be able to compete with other countries in the world.
He said the U.S. could try to re-enter the deal under more favorable terms or work to establish "an entirely new transaction." But he indicated that was hardly a priority. "If we can, great. If we can't, that's fine," he said.
Trump made this announcement in front of a battery of reporters when the temperature this afternoon was reported to be around 26 degrees Celsius.
By withdrawing the US from the climate deal, he fulfilled his major campaign promise and overturned the major foreign policy accomplishment of his predecessor Barack Obama.
The White House indicated it would follow the lengthy exit process outlined in the deal. That means the U.S. would remain in the agreement, at least formally, for another three-and-a-half years till 2020, ensuring the issue remains alive in the next presidential election.
The immediate impact of Trump's move could be largely symbolic. The White House said the U.S. will stop contributing to the United Nations Green Climate Fund and will stop reporting carbon data as required by the Paris accord, although domestic regulations require that reporting anyway. The decision has no direct impact on major U.S. regulations on power plants and car rules currently aimed at reducing carbon emissions, although those are currently under review by Trump as well.
However, Trump declared, emphasizing every word: "As of today, the United States will cease all implementation of the nonbinding Paris accord."
In addition to the US, only two other countries -- Syria and Nicaragua -- are not part of the Paris agreement.
EU leaders lash out at Trump for pulling out from Paris agreement 
The leaders of France, Germany and Italy joined to "note with regret" the Trump decision and express doubts about any change in the accord.
"We deem the momentum generated in Paris in December 2015 irreversible, and we firmly believe that the Paris Agreement cannot be renegotiated, since it is a vital instrument for our planet, societies and economies," wrote French President Emmanuel Macron, German Chancellor Angela Merkel and Italian Premier Paolo Gentiloni.
European Commission President Jean-Claude Juncker also lashed out at Trump and said in a tweet that the move to pull out from the deal was "a seriously wrong decision". 
In Germany, a statement issued by seven Social Democratic ministers in Merkel's coalition government said the United States "is harming itself, we Europeans and all the people of the world." 
Democrats blast Trump 
At home, the U.S. Conference of Mayors strongly opposed the decision and said the nation's mayors will continue efforts to reduce greenhouse gas emissions blamed for global warming.
Responding to Trump's pointing to his city, Pittsburgh Mayor Bill Peduto called the decision "disastrous for our planet, for cities such as Pittsburgh," and a step that "has made America weaker and the world less safe."
California Governor Jerry Brown called Trump's decision possibly "tragic" and a step "backwards" for the US.
Democratic lawmakers have said this is retreat of American leadership and gives opportunities to countries like India, China and Germany.
Congressional Republicans applauded the decision, with Senate Majority Leader Mitch McConnell of Kentucky saying Trump had "put families and jobs ahead of left-wing ideology and should be commended."
But House Democratic leader Nancy Pelosi of California called it "a stunning abdication of American leadership and a grave threat to our planet's future."
"A sad and weak decision," tweeted Richard Verma, former US Ambassador to India.
Obama slams Trump
In a rare statement on his successor's policies, Obama said: "Even in the absence of American leadership; even as this administration joins a small handful of nations that reject the future, I'm confident that our states, cities, and businesses will step up and do even more to lead the way, and help protect for future generations the one planet we've got."
Former Obama aide David Axelrod said "in backing off of climate pact", Trump "is locking arms with Syria and Nicaragua and matching confidently into the past". 
Business leaders, normally strong supporters of Republican initiatives, had vigorously appealed to Trump not to abandon the agreement. Many economists believe the accord would likely help create about as many jobs in renewable energy as it might cost in polluting industries.
The U.S. is the world's second-largest emitter of carbon, following only China. Beijing, however, has reaffirmed its commitment to meeting its targets under the Paris accord, recently cancelling construction of about 100 coal-fired power plants and investing billions in massive wind and solar projects.
White House aides have been divided on the question of staying or leaving the accord and had been deliberating on "caveats in the language" as late as Wednesday, one official said. But Trump's statement was clear and direct.
So was opposition from environmental groups.
"Generations from now, Americans will look back at Donald Trump's decision to leave the Paris Agreement as one of the most ignorant and dangerous actions ever taken by any president," Sierra Club executive director Michael Brune said in a statement.
(With agencies)