Passengers of hijacked Libyan plane leave Malta for home
The passengers of the hijacked Libyan flight that was yesterday diverted to Malta have left the Mediterranean island and are returning home. Afriqiyah Airways sent an aircraft to Malta to bring the more than 100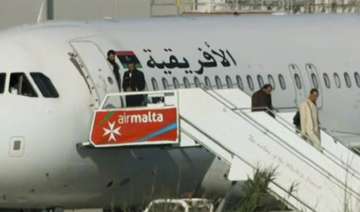 Source: PTI
India TV News Desk
Malta
December 24, 2016 18:33 IST
The passengers of the hijacked Libyan flight that was yesterday diverted to Malta have left the Mediterranean island and are returning home.
Afriqiyah Airways sent an aircraft to Malta to bring the more than 100 passengers back to Libya. Malta's interior minister, Carmelo Abela, said the passengers had been interviewed by police before leaving early Saturday.
The two Libyan hijackers had diverted the domestic flight Friday to demand asylum in Europe and create a new political party in honor of the late dictator Moammar Gadhafi, officials said. After hours of negotiations, the standoff ended peacefully with the hijackers freeing all 117 people on board and walking off the plane to surrender.
Police had said it was likely the hijackers, who had threatened to blow up the plane with hand grenades, would be arraigned Saturday. But police officials said no date or time had been set and that the investigation was continuing.
The hijacked aircraft remained on the tarmac of Malta's international airport, guarded by the Armed Forces of Malta.
(With input from AP)