Russia joins probe into envoy's murder in Turkey
Turkey and Russia have launched a joint probe into the assassination of Moscow's ambassador as the Turkish government raised finger of suspicion at exiled cleric Fethullah Gulen. Veteran diplomat Andrei Karlov was shot nine times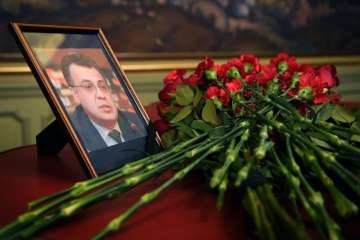 India TV News Desk
Ankara (Turkey)
December 21, 2016 7:23 IST
Turkey and Russia have launched a joint probe into the assassination of Moscow's ambassador as the Turkish government raised finger of suspicion at exiled cleric Fethullah Gulen.
Veteran diplomat Andrei Karlov was shot nine times in the back by off-duty Turkish policeman Mevlut Mert Altintas  as he gave a speech at an Ankara art gallery on Monday night.
An 18-member Russian investigations team has arrived in Ankara and has examined the crime scene as well as the bodies of the ambassador and the gunman, Turkey's state-run Anadolu news agency reported.
Police arrested "six relatives and a roommate of the assassin" but later released his uncle "under judicial restrictions."
Meanwhile, the envoy's autopsy has been completed and his remains have been sent to Ankara's Esenboga International Airport for a state ceremony before repatriation to Russia.
"The group will act in Turkey within the framework of the investigation into the murder," Dmitry Peskov, Kremlin spokesperson, said on Tuesday.
"Eighteen people will work in the group."
An unprecedented three-way meeting on Syria between the foreign ministers of Turkey, Russia and Iran went ahead in Moscow Tuesday despite the assassination, with the diplomats backing a widening of a truce.
Turkish Foreign Minister Mevlut Cavusoglu, meanwhile, pinned the assassination on Gulen's group, which Ankara says also orchestrated an attempted coup in July, the state-run Anadolu news agency said.
In a conversation with US Secretary of State John Kerry, Cavusoglu said "Turkey and Russia know that behind the attack... there is FETO," it said, referring to Turkey's acronym for Gulen's organisation.
The US-based Gulen had earlier issued a statement to condemn the assassination as a "terrorist act" that left him "shocked and deeply saddened."