South Koreans vote for new President to succeed ousted Park
The final opinion surveys released last week showed Moon, the Democratic Party candidate, had about a 20 percentage-point lead over his two main rivals a centrist and a conservative.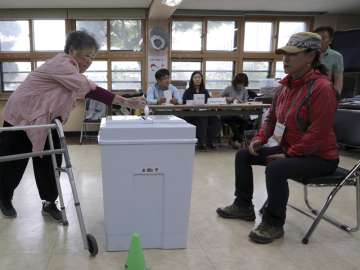 AP
Seoul
May 09, 2017 15:38 IST
Millions of South Koreans headed to polls today to elect a new president, a culmination of a two-month race a trailing conservative equated to an ideological war as his liberal rival appeared poised to overturn a decade of conservative rule after a massive scandal toppled the previous leader. 
Conservatives worry that a victory by Moon Jae-in might benefit North Korea and estrange South Korea and its most important ally, the United States. Moon was the clear favourite as conservative forces struggled to regroup after the huge corruption scandal ended Park Geun-hye's presidency. 
"I gave all my body and soul (to the election) to the very end. My party and I invested all our efforts with a sense of desperation, but we also felt a great desire by people to build a country we can be proud of again," Moon, 64, told reporters after casting his ballot. 
The final opinion surveys released last week showed Moon, the Democratic Party candidate, had about a 20 percentage-point lead over his two main rivals a centrist and a conservative. 
His victory would end a near-decade of conservative leadership by Park and Lee Myung-bak. Moon was chief of staff for the last liberal President Roh Moo-hyun, who sought closer ties with North Korea by setting up large-scale aid shipments to the North and by working on now-stalled joint economic projects. 
Outspoken conservative Hong Joon-pyo, the candidate from Park's Liberty Korea Party, described the election as a war between ideologies and accused Moon of being aligned with North Korea. 
After voting, Hong said the election was a "war of regime choices between people, whether they decide to accept a North Korea-sympathising leftist government or a government that can protect the liberty of the Republic of Korea," South Korea's formal name. 
Hong has pitched himself as a "strongman" who can hold his own against other "nationalist" leaders in Washington, Tokyo and Beijing. He also calls for the United States to bring back tactical nuclear weapons to South Korea after withdrawing them in the 1990s. 
The polls have shown Hong and centrist Ahn Cheol-soo running even. 
Voting stations are set to close at 8 pm and South Korean TV stations plan to release the results of their joint exit polls soon after the vote ends and are expected to predict a winner before midnight. 
The National Election Commission said more than 55 percent of the country's 42.4 million eligible voters cast their ballots as of 1 pm, a measurement that included the 11 million people who participated in early voting last week. 
The winner will be sworn in after the National Election Commission ends the vote count and confirms the result tomorrow. 
Because the vote is a special election, the new president will forgo the usual two-month transition and will serve one full, five-year term rather than only completing Park's original term, which was to have ended in February 2018. 
Some voters were eager to end the long conservative rule, which they think failed the economy and undermined democracy before the corruption scandal toppled Park. 
"Moon wasn't my favourite candidate in terms of policies, but I voted for him because he represented the best chance to switch government power and that's the most important thing over anything else," said Lee Ah-ram, a 39-year-old Seoul resident. 
"We need a leader who could restore the people's trust in government that had been damaged by Park's scandal," the resident added.
Others were more concerned about the growing threats posed by North Korea's nuclear weapons and missiles and fears over Seoul losing its voice in international efforts to deal with its belligerent rival. 
"We need a leader who could protect national interests and hold his ground against the surrounding global powers of the United States, China and Japan," said Kim Hyeong-seok, a 67-year-old who said he voted for Hong. "This is not the time to keep our eyes just on domestic issues we need to think about the nation's long-term future and peace."