Trump's Twitter attack costs Lockheed-Martin Rs 27,000 cr in market value
US President-elect Donald Trump's attack on Monday slamming large defense contractors, including jet manufacturer Lockheed Martin for "out of control" costs, sent the aerospace giant's shares tumbling, wiping out $4bn (Rs 27,000 crore) fr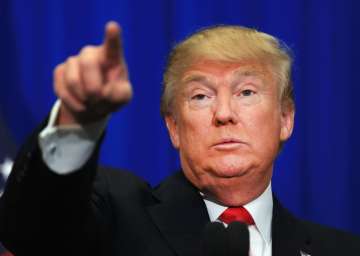 Source: PTI
India TV News Desk
Washington
December 13, 2016 12:50 IST
US President-elect Donald Trump's attack on Monday slamming large defense contractors, including jet manufacturer Lockheed Martin for "out of control" costs, sent the aerospace giant's shares tumbling, wiping out $4bn (Rs 27,000 crore) from the company's market value.
The F-35 program and cost is out of control. Billions of dollars can and will be saved on military (and other) purchases after January 20th.

— Donald J. Trump (@realDonaldTrump) December 12, 2016
Soon after Trump's tweet, Lockheed Martin's shares plummeted 4 per cent, while shares of other defense contractors, including Raytheon and Northrop Grumman, also tumbled Monday.
Trump didn't mention any specific company in his tweet, but Bethesda, Maryland-based Lockheed makes the F-35 one-seat fighter aircraft and is a major U.S. defense contractor.
Trump's tweet sent the price falling from Friday's close of $259.53 to $246. Lockheed Martin Corp. shares fell $6.42, or 2.5 percent, to close at $253.11 on Monday. Shares of Raytheon Co. dropped 1.7 percent to $143.81, Northrop Grumman Corp. fell 2.7 percent to $232.07 and General Dynamics Corp. fell 1 percent to $173.74. Boeing Co. bucked the trend, adding 67 cents to $157.16.
The F-35 program made up 20 percent of Lockheed's total 2015 revenue of $46.1 billion. And U.S. government orders made up 78 percent of its revenue last year. The F-35 program directly or indirectly supports more than 146,000 U.S. jobs, according to the company's website .
The Lockheed-Martin F-35 fighter jet is the most expensive military hardware program in history and is scheduled to quadruple production during Trump's administration. Each jet currently costs $100m.
In a statement Monday, Lockheed said that it has worked to lower the price of the F-35 by more than 60 percent and said it expects the aircraft to cost $85 million in 2019 and 2020.
"We welcome the opportunity to address any questions the president-elect has about the program," said Jeff Babione, general manager of the F-35 program. "It's an amazing program."
This is the second time in a week that Trump has blasted U.S. aircraft spending. Last week, he also used Twitter to target Boeing Co for its "out of control" costs on a new fleet of Air Force One planes, urging the federal government to "Cancel order!"