White House defends new Air Force One deal after Trump's threat to cancel order
After President-elect Donald Trump called for cancelling the deal of new Air Force One aircrafts with Boeing company, the White House today defended its efforts to develop a new aircraft saying 'the unique and upgraded capabilities will only benefit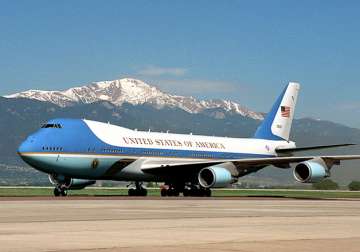 India TV News Desk
Washington
December 07, 2016 11:26 IST
After President-elect Donald Trump called for cancelling the deal of new Air Force One aircrafts with Boeing company, the White House today defended its efforts to develop a new aircraft saying 'the unique and upgraded capabilities will only benefit the future Presidents'.
White House press secretary Josh Earnest said that the upgrades to the new plane, which include security enhancements, are being made per the recommendation of national security experts.
"I think the American people would expect that future presidents would benefit from unique and upgraded capabilities while flying aboard Air Force One," Earnest said.
However, it's up to the Trump administration to determine whether the project will be completed, Earnest added.
"The updated Air Force One is not set to come online until 2023. This is a longer-range plan, but ultimately the planning work that we have done on behalf of future presidents is something the next administration will have to decide to carry forward." he said.
Earlier on Tuesday, Trump caused a stir when he balked at the cost of the project. 

 

"Boeing is building a brand new 747 Air Force One for future presidents, but costs are out of control, more than $4 billion. Cancel order!" he tweeted.
Also on Tuesday, Boeing said in a statement that the company is "currently under contract for $170 million to help determine the capabilities of these complex military aircraft that serve the unique requirements of the President of the United States."
The two 747-200 aircrafts currently used as Air Force One has been in flight since the Reagon era in 1980s. Though the two planes have been heavily modified, they are due to reach the end of their planned 30-year life in 2017.
In January, Boeing secured a contract from the Pentagon to start development work on the 747-8 jumbo jets that would replace the aging planes, according to a Wall Street Journal report. 
Boeing was the US government's second biggest federal contractor last year behind Lockheed Martin Corp., according to federal procurement data.