10 year old girl suicide bomber kills at least 16 in Nigeria
New Delhi: At least 16 people have been killed and several injured by a bomb strapped to a girl reported to be aged about 10 in the city of Maiduguri of Nigeria, police say."The explosive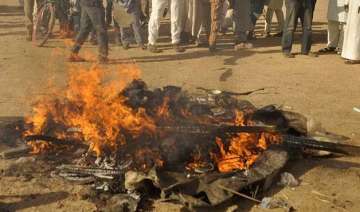 India TV News Desk
January 11, 2015 12:50 IST
New Delhi: At least 16 people have been killed and several injured by a bomb strapped to a girl reported to be aged about 10 in the city of Maiduguri of Nigeria, police say.
"The explosive devices were wrapped around her body," security officials said.
No group has yet claimed the responsibility for the attack. The market is reported to have been targeted twice in a week by female bombers late last year.
Maiduguri, the capital of Borno state, lies in the heartland of an insurgency by Sunni Muslim militant group Boko Haram, and is often hit by bomb attacks.
The Boko Haram revolt is seen as a big security threat to Nigeria, a country of 170 million people, and a serious challenge for President Goodluck Jonathan, who is seeking re-election in a national election set for Feb. 14.
Boko Haram has taken control of many towns and villages in north-eastern Nigeria over the past year.
The conflict has displaced at least 1.5 million people, while more than 2,000 were killed last year.