12 dead as Nepal quake jolts neighbouring Tibet
Beijing:  At least 12 people, including an 83-year-old woman, were today killed in southwest China's Tibet Autonomous Region after a powerful earthquake of 7.9 magnitude jolted neighbouring Nepal.The earthquake killed 12 people and seriously injured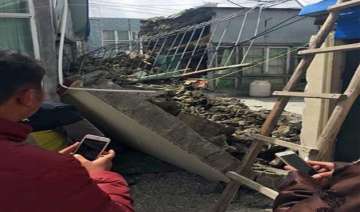 PTI
April 25, 2015 21:32 IST
Beijing:  At least 12 people, including an 83-year-old woman, were today killed in southwest China's Tibet Autonomous Region after a powerful earthquake of 7.9 magnitude jolted neighbouring Nepal.
The earthquake killed 12 people and seriously injured many others in Tibet, state-run Xinhua news agency cited local authorities as saying.
Seven people were killed in the Tibetan county of Nyalam and five people in the county of Gyirong. Both the counties in Xigaze are about 40 km from the epicentre.
The woman was killed after her house collapsed in Nyelam County in Shigatse City.
The quake was felt in the cities of Lhasa and Shigatse. Houses were damaged in Nyelam County and telecommunication services were interrupted in counties on the China-Nepal border, the report said.
Four Chinese nationals, including a climber, were also reported killed in Nepal.
Chen Quanguo, Communist Party of China (CPC) chief of Tibet, has ordered to evacuate people in the quake-hit regions to avoid further deaths and injuries from aftershocks and secondary disasters.
Meanwhile, the China Earthquake Administration has initiated a level-III emergency response.
A total of 3,204 firefighters and 87 sniffer dogs from Tibet and neighbouring provinces have also been readied to go to the quake-struck areas as a reinforcement.