24 confirmed dead, hundreds missing as boat carrying 700 migrants capsizes off Libyan coast
Rome: A boat believed to be crowded with 700 migrants capsized in the waters north of Libya overnight, leaving at least 24 confirmed dead and sparking fears for what could become the Mediterranean's deadliest known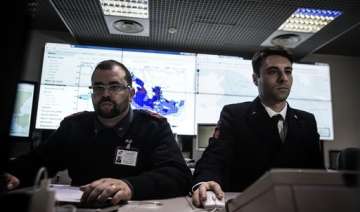 India TV News Desk
April 19, 2015 18:52 IST
Rome: A boat believed to be crowded with 700 migrants capsized in the waters north of Libya overnight, leaving at least 24 confirmed dead and sparking fears for what could become the Mediterranean's deadliest known migrant sea disaster, Italy's Coast Guard and other officials said today.
 Also Read: Over 700 feared dead after migrant boat sinks off Libyan coast
The Coast Guard said in a statement that the migrants' 20-meter vessel may have overturned because migrants rushed to one side of the craft when they saw a Portuguese merchant vessel approach it late last night. The cargo ship had been dispatched to come to the migrants' aid.
 
The Coast Guard said at least 28 survivors had been rescued by this morning. Maltese Prime Minister Joseph Muscat put the number of survivors at 50.
It was not clear whether Muscat's figure included the 28 survivors reported by Italy. Maltese search units were aiding rescue efforts.
Muscat said rescuers were seeing people in the sea and were "checking who is alive and who is dead."
The capsizing of such a crowded boat represented the "biggest human tragedy of the last few years," Muscat said.
A United Nations refugee agency spokeswoman Carlotta Sami tweeted that according to one survivor, the boat had set out with 700 migrants aboard.
But the Coast Guard and other authorities said they had no immediate way to determine how many were aboard or how many might still be rescued. The total number of passengers was expected to be clarified as officers interviewed survivors.
Given the depth of the sea, as deep as 5 kilometers or more in the area, it was possible that many bodies would never be recovered.
This has commonly been the case in similar tragedies off the coasts of Libya, Italy, and other Mediterranean nations in recent years.
Pope Francis was among those following the news. "There are fears there could be hundreds of dead," Francis told the faithful in St Peter's Square.
He bowed his head in silent prayer as did many of the tens of thousands in the crowd. For a second day running, he called on Europe to do more to help Italy manage its
continent-leading flow of migrants.
Italian Premier Matteo Renzi summoned his top ministers to meeting tonight in Rome to discuss the latest tragedy.
"The numbers (of the dead) are still provisional but the numbers are destined to rise," Renzi said. "How can it be that we daily are witnessing a tragedy?"
Rescuers reported seeing wreckage in the sea. "There are large fuel stains, pieces of wood, life jackets," Italian Border Police Gen. Antonino Iraso, whose force has boats deployed in the rescue effort, told Sky TG24
TV.