37 killed, 64 injured in Iraq attacks
Baghdad: At least 37 people were killed and 64 injured in a wave of attacks across Iraq, the police said.Nine people were killed and 27 wounded when a roadside bomb exploded during a wedding ceremony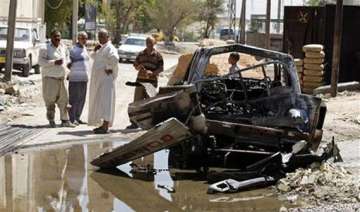 IANS
August 23, 2013 12:10 IST
Baghdad:
At least 37 people were killed and 64 injured in a wave of attacks across Iraq, the police said.
Nine people were killed and 27 wounded when a roadside bomb exploded during a wedding ceremony of a Shiite family in Dujail Thursday, 60 km north of Baghdad, reported Xinhua citing a police officer.
Dujail is a Shiite muslim town surrounded by Sunni areas. Tensions between the two communities have escalated because the Sunnis feel increasingly marginalised by the Shiite-led government in Iraq.
Unknown gunmen killed a woman in front of her house in Zahra neighbourhood, east of Mosul.
In another incident, eight people were wounded when a car bomb exploded in Tal Afar, 70 km west of Mosul, the police said.
A car bomb went off at a government office's parking lot in the city centre of Kirkuk, 250 km north of Baghdad, wounding two policemen and two civilians.
In a separate attack Thursday, 10 soldiers and four civilians were killed when a suicide bomber attacked an army checkpoint with a booby-trapped tank near Ramadi, 100 km west of Baghdad, Xinhua reported citing a police source.
Also Thursday, a suicide bomber rammed his explosives-laden fuel tanker into a military barrack in Anbar province, a former insurgent stronghold, killing at least nine soldiers and injuring 11.
To undermine the government's efforts to step up security, militants have intensified their attacks in areas like Anbar province.
In another incident, unidentified gunmen opened fire at an Iraqi army checkpoint in Aslah neighbourhood in Mosul, 400 km from Baghdad, killing two soldiers, a police officer told Xinhua.
Two Iraqi soldiers were killed and four civilians wounded when a roadside bomb targeted an Iraqi army patrol in Baath neighbourhood in eastern Mosul, the officer added.
Iraq is witnessing the worst eruption of violence in five years, raising fears that the latest bloodshed is bringing the country back to a full-blown civil conflict that peaked in 2006 and 2007.