Aarti performed at historic Pashupatinath temple in Nepal
Kathmandu: Aarti was performed at Nepal's famous Pashupatinath temple today evening for the safety of people hit by massive earthquake.Yesterday's earthquake was centred roughly 50 miles from Nepal's capital of Kathmandu, putting it dangerously close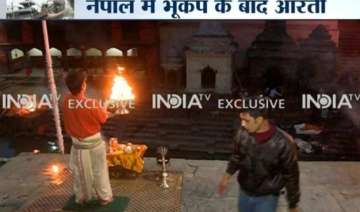 India TV News Desk
April 26, 2015 21:10 IST
Kathmandu: Aarti was performed at Nepal's famous Pashupatinath temple today evening for the safety of people hit by massive earthquake.
Yesterday's earthquake was centred roughly 50 miles from Nepal's capital of Kathmandu, putting it dangerously close to the revered temple, located in the heart of Himalayan nation.
The historic temple, however, escaped nature's fury and did not suffer any damage in the disaster.
This temple complex is on UNESCO World Heritage Sites's list Since 1979. The temple, one of the oldest and largest Shiva temple in world, is the holiest pilgrimage site for Hindus.
Several temples, including Kasthamandap, Panchtale temple, the nine-storey Basantapur Durbar, the Dasa Avtar temple, Krishna Mandir and two dewals located behind the Shiva Parvati temple, were demolished after a massive 7.9 magnitude earthquake hit the country.
A few other monuments, including the Kumari Temple and the Taleju Bhawani, among others, have partially collapsed.