Black man dies in police custody in US
Washington: A 33-year-old black man died in police custody in the US city of San Antonio over the weekend after police used a taser on him twice while trying to arrest him, authorities said.San Antonio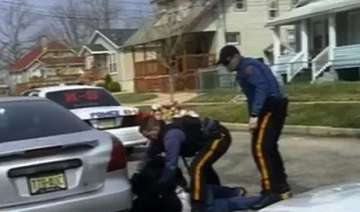 IANS
April 21, 2015 8:33 IST
Washington: A 33-year-old black man died in police custody in the US city of San Antonio over the weekend after police used a taser on him twice while trying to arrest him, authorities said.
San Antonio Police spokesman Javier Salazar told the San Antonio Express News that the incident occurred when two officers responded to a "family disturbance" call at a local home.
When they arrived at the scene, officers found a man of "very large stature" who refused to leave the house and resisted them when they tried to escort him out, following which the officers tried to immobilise him with a taser.
Police said, however, that the man removed the taser probes and continued to resist them, and so a second officer tasered the man again, paralysing him. The man, however, died shortly thereafter despite being attended to by paramedics.
According to the officers, whose ethnicities have not been released, the man was under the influence of drugs or alcohol at the time.
A medical examiner was investigating the cause of death.
A number of black men have been killed by white police officers in the US over the past year or so, making people ask if black lives matter in the US.
A video earlier this month showed a white police officer in the state of South Carolina shooting dead a black man running away from him.
The killing of Michael Brown, an unarmed 18-year-old by a white police officer in the city of Ferguson last August led to days of unrest, including looting of some Indian-American stores.
Since then, similar incidents in New York, Cleveland, Madison, Wisconsin, had sparked demonstrations and outrage in several cities across the US.