Another case filed against Khaleda Zia
Dhaka: Another case, for "instigating arson", has been filed against former Bangladesh prime minister Khaleda Zia, who had called a nationwide transport blockade earlier this month, a media report said on Tuesday.Police booked her as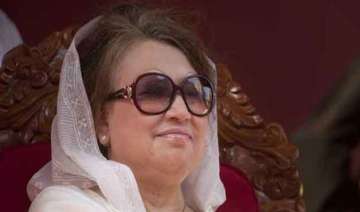 IANS
January 27, 2015 12:21 IST
Dhaka: Another case, for "instigating arson", has been filed against former Bangladesh prime minister Khaleda Zia, who had called a nationwide transport blockade earlier this month, a media report said on Tuesday.
Police booked her as the "hukumer asami", someone responsible for "instigation and conspiracy", over torching of a covered van at Chouddagram in Comilla district, 100 km away from Dhaka, bdnews24.com reported.
The case was filed by the Chouddagram police station sub-inspector Md. Nuruzzaman Monday night, said station officer Uttam Kumar Chakrabarty.
He said Khaleda and 31 other leaders and activists of Bangladesh Nationalist Party (BNP) and Jamaat-e-Islami were accused in it.
Chakrabarty said the covered van was torched in Haiderpool on the Dhaka-Chittagong Highway Sunday.
The BNP chief, leading a coalition in the movement demanding snap election under a non-partisan administration, had called the nonstop blockade Jan 5 after failing to lead anti-government protests.
So far, blockade-induced arson attacks have burned at least 20 people to death across Bangladesh, leaving many injured.
Prime Minister Sheikh Hasina Jan 21 said in Parliament that suing Khaleda for "instigating such violence" was possible.
Jatrabarhi police Saturday filed two cases against the BNP chief over an arson attack on a bus in the area Jan 23 that left at least 27 people burnt.
The cases prompted the BNP to warn of "dire consequences" if they were not withdrawn right away.
A pro-Awami League transport workers' organisation has also issued the government a Jan 31 deadline to arrest Khaleda.