Another Jamaat leader in Bangla charged with 1971 war crimes
Dhaka, Jul 18: Bangladeshi prosecutors today slapped six war crime charges, including genocide, against a senior leader of fundamentalist Jamaat-e-Islami, a day after the party's second-highest ranked official was sentenced to death for atrocities during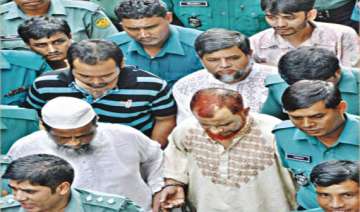 PTI
July 18, 2013 18:39 IST
Dhaka, Jul 18:
Bangladeshi prosecutors today slapped six war crime charges, including genocide, against a senior leader of fundamentalist Jamaat-e-Islami, a day after the party's second-highest ranked official was sentenced to death for atrocities during the country's 1971 war of independence. 
"We have brought six charges against Jamaat-e-Islami's (detained) assistant secretary general A T M Azharul Islam...  the court (International Crimes Tribunal or ICT) has fixed July 24 to issue orders on the indictment of the accused," prosecutor A K M Saiful Islam told a press briefing.  He said the prosecution sought to try him on specific charges like murders, genocide, abduction, persecution and rape, siding with the Pakistani troops during the 1971 liberation war.
Islam was arrested in August last year to face justice for war crimes along with nearly a dozen other top Jamaat leaders and its then student wing Islamic Chhatra Sangha leaders who were opposed to Bangladesh's independence from Pakistan.
In a related development, the ICT today issued an arrest warrant against an incumbent but fugitive mayor of a town in western Faridpur to face justice for war crimes charges.  Prosecution lawyers said Mayor of Nagarkanda Zahid Hossain Khokan, also a local leader of main opposition Bangladesh Nationalist Party was a self-declared collaborator of the Pakistani troops as he used to say "I was a Razakar (collaborator), still am, and want to die as a Razakar." Khokon, who previously was a Jamaat activist, however, went into hiding since investigations were launched to unearth his 1971 role.
The development came as Jamaat enforced a nationwide general strike protesting the death sentence handed out to its secretary general Ali Ahsan Mohammad Mojaheed, who led the infamous Al Badr force.
Al-Badr is particularly castigated for carrying out a systematic cleansing campaign against the Bengali intelligentsia during the Liberation War.