Bangladesh unrest: 1 more dead, toll rises to 27
Dhaka: Bangladesh anti-government protesters on Sunday targeted policemen with petrol bombs and attacked public buses, as one more person died in fresh violence against last year's disputed polls pushing the death toll to at least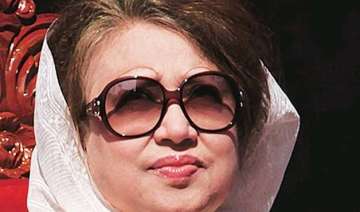 PTI
January 18, 2015 21:36 IST
Dhaka: Bangladesh anti-government protesters on Sunday targeted policemen with petrol bombs and attacked public buses, as one more person died in fresh violence against last year's disputed polls pushing the death toll to at least 27.
Six policemen were injured in an overnight attack when supporters of opposition Bangladesh Nationalist Party (BNP) targeted their vehicle during their return to barracks, police said on the 13th day of the violence.
The attack came after law enforcement agencies warned of tougher actions against arsonists, But the violence spread, sparking concerns among diplomats and international community.
Witnesses said a petrol bomb was hurled at the driver of the police truck carrying about 40 policemen to the main Razarbagh barracks in Dhaka.
Following the attack, the driver lost control over the wheels and the truck overturned and caught fire.
"It (the attack on police) is clearly an act of blockade of activists. We will bring to book not just the attackers alone but also those who are giving them orders," Dhaka police commissioner Asaduzzaman Mia told reporters.
Shortly after the attack, the rioters threw two petrol bombs on a bus. Nine persons were injured in the incident.
In another incident, a man was found dead inside a truck, taking the death toll in the violence to 27.
"We found him dead inside the burnt truck which plunged into a roadside ditch after being attacked on the Dhaka- Barisal Highway," said Barisal's police chief AKM Ehsanullah.
Doctors at Dhaka Medical College Hospital said the respiratory system of the 78-year-old victim was damaged while the condition of three others were critical.

The suspected BNP activists last night threw a crude bomb on a cycle rickshaw injuring the rickshaw puller and a passenger in Dhaka while another rickshaw puller was set on fire when miscreants hurled a petrol bomb in southeastern port city of Chittagong last night.
The transport blockade by the Opposition in protest against the controversial elections won by Sheikh Hasina's Awami League last year entered the 13th day today.
The BNP had boycotted the polls, demanding a neutral caretaker government to oversee the polls.
Thousands of people today defied the blockade and thronged the outskirts of Dhaka to join the concluding prayers of the second phase of Biswa Ijtema, said to be the second largest Muslim congregation after Haj.
The unrest began as the country marked the first anniversary of the polls on January 5.
The blockade began after authorities virtually confined BNP chief Khaleda Zia in her office and barred her from a public rally on January 5.
Since then Zia was "confined" at her Gulshan office though the government said the extra security in front of her office was for her own security and that she was free to go home with "police escorts".
The US, Britain and the EU earlier sharply protested on the current spate of violence.