Obama warns against Ebola complacency despite 'major progress'
Washington: Despite "major progress" in the fight against Ebola, US President Barack Obama has warned against complacency and said the goal now is to get to zero cases.Obama on Wednesday made the remarks at the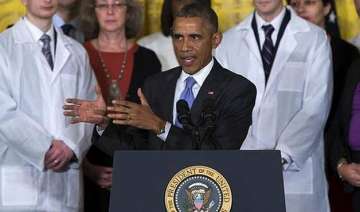 IANS
April 16, 2015 10:08 IST
Washington: Despite "major progress" in the fight against Ebola, US President Barack Obama has warned against complacency and said the goal now is to get to zero cases.
Obama on Wednesday made the remarks at the White House while meeting with the presidents of Sierra Leone, Guinea and Liberia, the three West African countries hardest hit by the Ebola outbreak, Xinhua reported.
"Last week, there were fewer than 40 new cases, so we have seen major progress," Obama said. "(But) we can't be complacent. This virus is unpredictable."
He said the international community "has to remain fully engaged in a partnership with these three countries until there are no cases of Ebola in these countries."
Obama also called the Ebola epidemic "an economic crisis" and noted that the African leaders would meet with the International Monetary Fund and the World Bank on economic assistance.
According to the World Health Organization, 37 confirmed cases of Ebola were reported in West Africa last week, the lowest number in nearly a year. The figure included 28 cases in Guinea and nine cases in Sierra Leone. Liberia reported no new Ebola cases.