Bhutan opposition wins parliamentary elections
Guwahati, Jul 14: Bhutan's main opposition party, which campaigned on developing stronger ties with neighbor India, has won a majority of seats in parliamentary elections and will take over power in the tiny Himalayan nation.The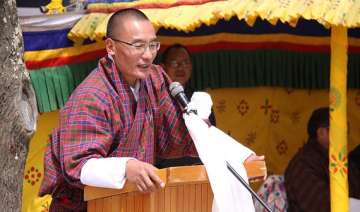 India TV News Desk
July 14, 2013 10:09 IST
Guwahati, Jul 14:
Bhutan's main opposition party, which campaigned on developing stronger ties with neighbor India, has won a majority of seats in parliamentary elections and will take over power in the tiny Himalayan nation.
The People's Democratic Party won 32 seats in the 47-member National Assembly on Saturday, according to results posted on the official website of Bhutan's Election Commission. The ruling Peace and Prosperity Party won only 15 seats.
Chief Election Commissioner Kunzang Wangdi said the official results would be announced on Sunday.
The PDP has criticized the government for a recent deterioration of ties with India and campaigned heavily on the issue.
The party had also sought greater devolution of power to the people, a slogan that proved popular in rural areas.
Sandwiched between Asian giants China and India, Bhutan was long closed to the rest of the world before starting to open up in the 1960s.
Foreigners and the international media were first admitted in 1974, and television arrived only in 1999.
India has had a special relationship with Bhutan, which over the decades has been the biggest recipient of Indian aid.
Thousands of Bhutanese study in India, and New Delhi has helped build several hydropower plants in Bhutan, with the electricity being sold to India.
However, India's decision early this month to cut subsidies on cooking gas and kerosene to Bhutan was a major election issue, with media reports saying India cut the subsidies to show its unhappiness over the Bhutanese prime minister's cozying up to rival China.
New Delhi has said it would review the decision and work out a solution once India finalizes its financial aid to Bhutan for the next five years. The last aid plan ended in June.
PDP leader Tshering Tobgay is likely to be named prime minister of the new government. He was opposition leader in the outgoing parliament.
Hundreds of thousands of people went to the polls to elect a government in Bhutan's second parliamentary elections.
The remote nation of about 738,000 held its first election in 2008 after King Jigme Khesar Namgyel Wangchuk voluntarily reduced the monarchy's role in running the country.
Wangdi said estimates showed that more than 80 percent of the nearly 382,000 people eligible voters cast ballots.
Primaries held in May had eliminated three of five political parties, leaving the Peace and Prosperity Party and the People's Democratic Party in the fray.
The results showed that many supporters of the three parties who lost backed the PDP.
In the primaries, the Peace and Prosperity Party, headed by outgoing Prime Minister Jigmi Y. Thinley, secured 45 percent of the vote compared to the PDP's 35 percent.
Campaigning ahead of Saturday's elections was largely subdued, with the 94 candidates holding small public meetings and rallies and participating in debates on state-run television.
International poll observers from Britain, India and the European Union were in Bhutan, Wangdi said.